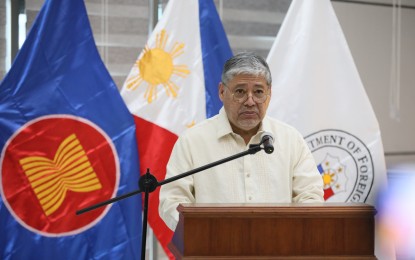 MANILA – Foreign Affairs Secretary Enrique Manalo sent his thoughts to the victims of a magnitude 5.6 earthquake that left over 250 dead and scores missing in Indonesia.
"My heartfelt prayers go to the people of Indonesia over the destruction and loss of lives caused by the magnitude 5.6 earthquake last Monday. The Philippines is one with our Indonesian brethren during this time of grief," Manalo said in a tweet Wednesday.
The Department of Foreign Affairs (DFA) said there were no Filipinos hurt from the tremor.
Out of the around 6,700 Filipinos in Indonesia, at least 420 are living in West Java where the earthquake hit past 1 p.m. Monday local time.
About 268 people died while 151 are missing across the Indonesian province, based on reports citing the Indonesian National Board for Disaster Management.
Over 58,000 people remain displaced and more than 1,000 individuals sustained injuries.
Solomon Islands quake
Also on Wednesday, the DFA said no Filipino casualty was reported following the magnitude 7.3 earthquake in Solomon Islands.
The earthquake struck the country at 12:30 p.m. on Nov. 22, causing damage to infrastructure, including the old building of the Honiara International Airport.
The DFA, citing Filipino Association in the Solomon Islands president Myrtle Atienza, said there were no immediate reports of casualties.
"There were series of aftershocks and at the moment the island is left without electric power although communication lines were partially restored. The Philippine Embassy in Port Moresby will continue to monitor the situation," it said. (PNA)