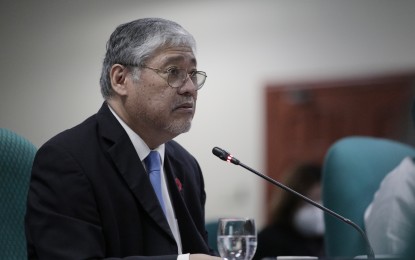 MANILA – The Department of Foreign Affairs (DFA) has put in writing that it stands by the account of the Philippine Navy after the Chinese Coast Guard (CCG) allegedly seized a debris it fished out from waters off Pag-asa Island.
In a CNN interview Thursday, Foreign Affairs Secretary Enrique Manalo said a note verbale was sent to China on Nov. 23 to "seek clarification" and officially hear from their side.
"We stand by the statement of the vice admiral," he said, referring to Western Command chief Vice Admiral Alberto Carlos who first reported the incident.
"We have referred it, in effect, in the note verbale to China and we'd like to see how they reply. Depending on how the reply comes out then we will have to see what to do," he added.
Manalo said the DFA would closely follow the developments and see what further diplomatic action might be needed.
If the agency finds the response "lacking", the top diplomat said discussions would continue either through exchange of note verbale or face-to-face meetings.
The filing of diplomatic note follows the instruction of President Ferdinand R. Marcos Jr.
As of Nov. 22, the DFA has issued 189 protests, 61 of which were made during the current administration.
The incident took place near Pag-asa Island in the West Philippine Sea on Sunday after a team from the Naval Station Emilio Liwanag (NSEL) retrieved a floating object, later revealed to be a rocket debris.
Carlos on Monday said the CCG dispatched a boat, which "forcefully retrieved" the said debris by cutting the towing line attached to the NSEL rubber boat.
In a media statement, the Chinese Foreign Ministry vehemently denied the report, saying the Philippine side handed over the debris "after friendly consultation". (PNA)