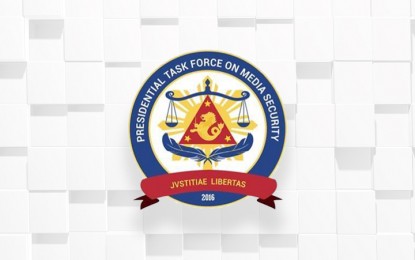 MANILA – The Presidential Task Force on Media Security (PTFoMS) on Thursday welcomed the decision of the House of Representatives to approve on final reading a proposed measure seeking to provide media workers with hazard pay, a living wage, employment safety, and additional insurance and hospitalization benefits.
A total of 252 lawmakers on Monday voted with no abstention to approve on the third reading House Bill (HB) 454 or the Media Workers Welfare Act (MWWA), a consolidation of five similar bills.
"The Presidential Task Force on Media Security is grateful for the unanimous approval by the House of Representatives of House Bill No. 454, otherwise known as the Media Workers Welfare Act, on the third and final reading," the task force said in a press statement.
The PTFoMS said the number of votes shows the "overwhelming aspiration" of lawmakers to improve the welfare of media workers, especially as the nation commemorates the 13th year of the Maguindanao massacre.
About 58 people, including 32 journalists and media workers, were supposed to witness the filing of the candidacy of then Buluan Vice Mayor Esmael Mangudadatu for the 2010 gubernatorial elections but were flagged down and massacred by gunmen in Ampatuan, Maguindanao on Nov. 23, 2009.
"This also serves as a fitting and timely tribute to those who fearlessly toil day and night to give the Filipino people the news, especially with the recent commemoration of the 13th anniversary of the Maguindanao Massacre where 32 media practitioners were killed," the task force added.
Under HB 454, media workers required to physically report for work in dangerous places, such as embattled and disease-stricken areas, will receive hazard pay of PHP500 a day and shall be provided with safety gear, such as bulletproof vests and protective equipment, by their employer.
They are also entitled to a PHP200,000 death benefit, disability benefit of up to PHP200,000, and medical insurance of up to PHP100,000.
The PTFoMS likewise expressed confidence that the House version of the MWWA will also be approved by the Senate "in due time."
To recall, the MWWA almost became law during the 18th Congress when it was also passed unanimously by the House under HB 8140 through the sponsorship of former ACT-CIS Party-list representative, now Social Welfare Undersecretary Rowena Taduran, and Representatives Eric Go Yap and Jocelyn Tulfo as early as January 2021.
The task force actively participated in the crafting of the bill and lobbied for its passage during the previous Congress.
However, the bill remained pending in the Senate's Labor, Employment, and Human Resources Development Committee and failed to pass into law.
President Ferdinand R. Marcos Jr. earlier vowed to support and protect the rights of the media as they efficiently perform their duty.
"Whatever difficulties we may encounter from this point on, the government will always be ready to lend an ear and to listen to your concerns and to answer all that you may want to know," he said in a speech before the Manila Overseas Press Club last month. (PNA)