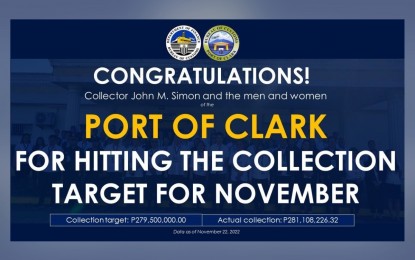 CITY OF SAN FERNANDO, Pampanga – The Bureau of Customs-Port of Clark has surpassed its collection target for 11 straight months.
A report from the Collection Division showed that BOC-Port of Clark exceeded its target with a collection of PHP281.10 million as early as Nov. 22 as against its goal of PHP279.50 million.
The port hit its target with a surplus of PHP1,608,226 or a positive deviation of 0.57 percent which is seen to increase until the end of this month.
The port already met its target for the calendar year 2022 last Nov. 4.
It exceeded its collection target for this year with an actual collection of PHP3.009 billion, up by PHP5.3 million or 0.18-percent higher than the PHP3.004-billion target for the year.
The port's collection from Jan. 1 to Nov. 3, 2022 was 44.38 percent higher than the PHP2.084-billion collection last year.
Collector John Simon on Thursday said despite hitting the target two months earlier before the year ends, the BOC-Port of Clark will continue to sustain its revenue collection efforts to meet the December target.
Simon cited the hard work and dedication that the personnel had exerted in meeting the collection targets ahead of time.
He also acknowledged the contribution of stakeholders and partner agencies in putting their trust in the port for the efficient facilitation of trade and effective customs rules and regulations at the Clark Freeport Zone.
"The Port of Clark, through the leadership of Commissioner Yogi Filemon Ruiz and as mandated by President Ferdinand Marcos Jr., will remain steadfast in fulfilling the bureau's mission of improving the collection of lawful revenues for the government," he said in a statement. (PNA)