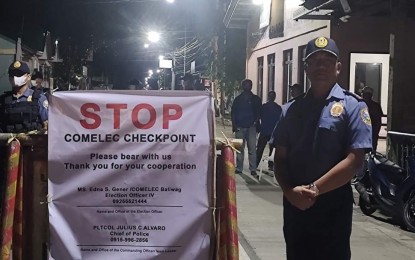 BALIWAG, Bulacan – The Bulacan Police Provincial Office has reminded firearms owners that a gun ban is in effect in this town starting Thursday.
This is in connection with the plebiscite for the cityhood on Dec. 17.
Col. Relly Arnedo, Bulacan provincial director, said the gun ban that will be in effect until Dec. 24, 2022 is relative to the Commission on Elections (Comelec) Resolution No. 10863.
"These security measures are necessary to ensure the safety of everyone. During the cityhood plebiscite period, no person shall bear, carry or transport firearms or other deadly weapons in public places within the vicinity of Baliwag," he said in an interview.
Arnedo, together with Lt. Col. Julius Alvaro, Baliwag police chief, and Edna Gener, Election Officer 4 of Comelec-Baliwag, led the gun ban checkpoint that started midnight on Wednesday.
Arnedo warned that licensed firearms owners who are caught violating the gun ban may perpetually lose their privilege to own firearms.
In Comelec Resolution No. 10851 promulgated on Nov. 8, Comelec set the information and campaign period from Nov. 17 to Dec. 15.
During this period, civic, professional, religious, business, youth, and any other similar organizations may hold symposia, public rallies, or meetings to enlighten the voters of the municipality.
Republic Act 11929, otherwise known as "An act converting the municipality of Baliwag in the province of Bulacan into a component city", was passed on July 29, 2022. (PNA)