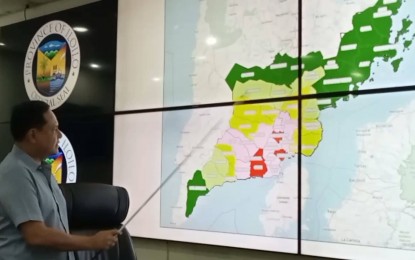 ILOILO CITY – Iloilo City recorded its first confirmed case of African swine fever (ASF) on Thursday while the number of municipalities in the province under red or infected zones rose to four.
Mayor Jerry P. Treñas announced the city's first case at Zone 5, Barangay Tacas, in Jaro district following receipt of the results of the 17 samples submitted to the Regional Animal Disease Diagnostic Laboratory.
"We have already put into place the quarantine measures, we are working with the barangays and we will continue to make sure that all hogs within the 500-meter radius will be depopulated and buried to avoid the spread of ASF in the city," he said in his official statement.
Treñas added that the slaughterhouse, which is also situated in Barangay Tacas, has been conducting daily disinfection and all slaughtered swine in the facility are disposed of immediately.
All public markets in the city are also implementing strict measures where all pork coming from areas with cases of ASF are rejected.
Meantime, Iloilo Governor Arthur Defensor Jr., in a press conference on Thursday, said the municipality of New Lucena is now considered a red or infected zone in addition to the towns of Oton, San Miguel, and Leganes.
Cases were also recorded in the towns of Alimodian, Sta. Barbara and Mina but only the barangays affected are placed under the red zone since the disease has not spread to other villages.
Defensor on Nov. 24 also met virtually with municipal mayors, partner national government agencies, concerned offices at the provincial capitol, and hog growers where they discussed the campaign against ASF.
He also presented the "Pork Festival Kontra ASF" program as mandated in Executive Order number 545 which is focused on prevention, containment, depopulation, and recovery measures.
"Again this is not just a pork eating festival. This is about those four areas. First is we will do everything so that the red and the pink zone will not widen," he said in a press conference. (PNA)