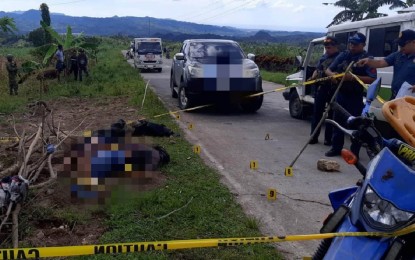 BACOLOD CITY – Suspected New People's Army (NPA) rebels gunned down two intelligence officers of the Philippine Army's 47th Infantry Battalion (47IB) in Barangay Camindangan, Sipalay City, Negros Occidental before noon on Thursday.
A report from the Negros Occidental Police Provincial Office (NOCPPO) identified the fatalities as Sgt. Regie Glindro and Staff Sgt. Ken Camilan, who were conducting a reconnaissance operation when they were waylaid by the perpetrators along a hilly portion of Sitio Camboguiot.
"A group of armed men with unknown caliber of firearms shot both victims, hitting them on the different parts of body that resulted to their instantaneous death," it added.
According to the report, Glindro and Camilan were intelligence operatives of the 47IB based in Barangay Haba of the neighboring Candoni town.
Photos released by the NOCPPO showed the victims also sustained wounds aside from those caused by gunshots.
Witnesses said the soldiers were shot by five men, who fled on board two motorcycles, based on another report obtained by the local media. (PNA)