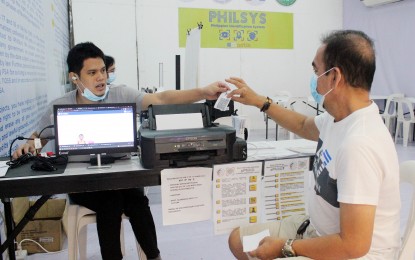 MANILA – The Philippine Statistics Authority (PSA) on Thursday said it has issued a total of 3.6 million printed ePhilIDs (electronic Philippine IDs), the digital version of the PhilID, to allow registered persons to immediately utilize the benefits of Philippine Identification System (PhilSys).
During a Laging Handa briefing, officer-in-charge of the PhilSys Registry Office Fred Sollesta said the agency is targeting to generate a total of 20 million printed ePhilIDs before the year ends.
"Itong ating target for the end of the year, December 2022, na makapag-generate tayo ng at least 20 million ePhilID. Pero iyong pre-generation natin ngayon ay nasa 11.15 million na and right on track sa aming target by the end of the year 2022, of which kanina, sinabi ko, 3.6 million na iyong naisyu namin (Our target for the end of the year, December 2022, is to generate at least 20 million ePhilIDs. But the pre-generation is currently at 11.15 million and we are right on track with our target by the end of the year 2022, of which 3.6 million has already been issued)," Sollesta said.
Sollesta said the printed ePhilID has the same functionality and validity as the physical PhilID card.
He said the printed ePhilID also has additional security features, including the QR code to verify the ID's authenticity.
"So hindi dapat mag-worry iyong ating mga kababayan dahil secured na secured iyong ating ePhilID tulad ng ating physical card (So our fellow Filipinos should not worry because the ePhilID is very secure just like the physical card)," he said.
The printed ePhilID bears the same information as the physical PhilID card, containing the registered person's demographic data, front-facing photograph, PhilSys Card Number (PCN), generation date, and QR code.
It allows faster and seamless transactions in accessing financial and social protection services requiring proof of identity, subject to authentication.
The PSA aims to issue a total of 50 million PhilID cards by end of 2022 following directives issued by President Ferdinand R. Marcos Jr. in his State of the Nation Address.
They intend to deliver 30 million physical cards and 20 million digital PhilIDs. (PNA)