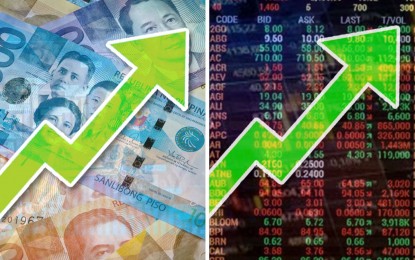 MANILA – Indications for smaller hikes in the Federal Reserve's key rates sustained the rise in the local bourse's main index on Thursday, a performance mirrored by the peso.
The Philippine Stock Exchange index (PSEi) gained by 0.31 percent, or 20.19 points, to 6,530.51 points.
All Shares followed with a jump of 0.18 percent, or 6.28 points, to 3,422.04 points.
Most of the sectoral gauges also rose during the day – Financials, 1.57 percent; Holding Firms, 0.55 percent; Services, 0.38 percent; and Mining and Oil, 0.09 percent.
On the other hand, Industrial slipped by 0.54 percent and Property by 0.12 percent.
Volume slipped to 663.97 million shares amounting to PHP5.89 billion.
Decliners led advancers at 94 to 87 while 49 shares were unchanged.
"Philippine shares sustained the rally as investors parsed through the latest FOMC (Federal Open Market Committee) meeting minutes, which pointed to a slowdown in Fed's tightening in the coming months," said Luis Limlingan, Regina Capital Development Corp. head of sales.
Following the release of the November 1-2 FOMC meeting minutes, Limlingan said yields of US Treasuries declined, with that of the benchmark 10-year down by about 6 basis points to about 3.696 percent.
The yield of the two-year US Treasury slipped by about 3.4 basis points to 4.483 percent, he said.
There will be no trading in US financial markets on Thursday given the Thanksgiving holiday, while trading on Friday will be shorter.
Similarly, oil prices fell "as the G7 nations considered a price cap on Russian oil above the current market level and weighed by higher-than-expected US gasoline inventories," Limlingan said.
Brent crude futures went down by 4 percent to USD84.79 per barrel and the US' West Texas Intermediate slipped by 4.3 percent to USD77.45 per barrel.
Meanwhile, the peso further gained against the greenback after it closed the day's trade at 56.78 from the previous day's 56.94.
It opened the day at 56.88, way better than the previous session's 57.25.
It traded between 56.88 and 56.68, resulting in an average of 56.79.
Volume increased to USD868.5 million from the previous day's USD687.85 million.
Rizal Commercial Banking Corp. chief economist Michael Ricafort said the local currency ended the day at its best in two months, following its 56.77 close to the US dollar on Sept. 13, 2022.
Ricafort attributed this to the improvement in the PSEi, correction of the US dollar against other major currencies, confirmation of Finance Secretary Benjamin Diokno by the Commission on Appointments, and approval by lawmakers on the third and final reading of the proposed PHP5.268 trillion 2023 national budget, among others.
He forecast the peso to trade between 56.70 and 56.90 to the US dollar on Friday. (PNA)