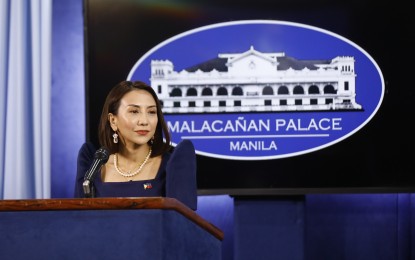 MANILA – Three cabinet secretaries, including Tourism chief Christina Frasco garnered over 70 percent approval rating, according to a survey by the RP-Mission and Development Foundation Inc. (RPMD).
The list was headlined by the Interior and Local Government Secretary Benjamin Abalos Jr. who secured 75 percent, followed by Department of Social Welfare and Development Secretary Erwin Tulfo with 73 percent and Frasco with 71 percent.
The survey was based on an RPMD poll from Nov. 3 to 10, 2022 using face-to-face interviews with 5,000 respondents picked randomly among 7.3 million adult Filipinos living in Metro Manila.
Frasco in a statement thanked and commended her team.
"The result of the RPMD survey is an affirmation of the hard work of the men and women of the Department of Tourism (DOT) and the entire industry and the sectors that it encompasses," she said.
"This will be an inspiration as we carry on with zeal and optimism the tasks that will lead us to the resurgence of tourism as envisioned by President Marcos Jr.," she added.
The youngest in the Marcos cabinet and a lawyer by profession, Frasco is a three-term mayor of Liloan, a municipality in the province of Cebu, before being hand picked by the President to lead the DOT.
Despite coming off the worst tourism crisis in the last century in the form of a global pandemic, Frasco echoed President Marcos' optimism, taking the challenge as an opportunity to turn things towards the resurgence of tourism across the country.
"The role is challenging given the setbacks the industry has faced in the past two years. In our effort to listen to stakeholders, we were able to gain valuable insight of the industry's needs and we continue to form collaborative relationships that ensure recovery that is inclusive and responsive," she said.
"Led by our President, the tourism industry will recover and rise stronger than ever," she added.
In her first 100 days, Frasco led the DOT in an aggressive campaign to revive the hard-hit industry starting with listening tours involving tourism stakeholders in and outside the country and support for the President's direction toward easing travel restrictions such as the lifting of the mask mandates and removal of the One Health Pass.
In September this year, the DOT partnered with the Departments of Labor and Employment and mounted the Trabaho, Turismo, Asenso: The First Philippine Tourism Job Fair offering some 9,000 tourism employment to job seekers.
The DOT also began the establishment of Tourist Rest Areas across the country aimed at improving visitor experience; and initiated talks with relevant government agencies to explore the resumption and creation of flights to improve the connectivity into and around the country.
It also launched relevant and timely projects such as The Philippine Experience: Arts, Culture and Heritage Caravans with the goal of further diversifying the cultural tourism product offerings of the country; and the Over-Wintering Packages to entice foreigners who wish to elude winter in their countries, among others. (PNA)