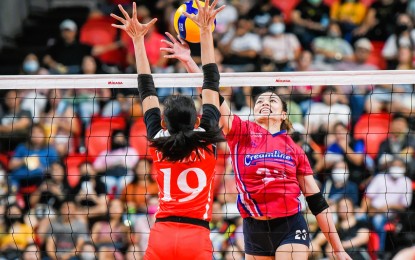 MANILA – Creamline banked on Turkish import Yeliz Basa and Jessica Margarett Galanza to pull off a 25-21, 25-20, 25-23 victory over Petro Gazz at the start of the semifinal round of the Premier Volleyball League Reinforced Conference at the PhilSports Arena in Pasig City on Thursday.
The 6-foot-2 Basa scored 17 points, 16 on attacks while Galanza chipped in 12 spikes and two aces for the Cool Smashers. Skipper Alyssa Valdez had 11 points, including two blocks.
Julia Melissa de Guzman made 19 excellent sets and Kyla Llana Atienza had 19 excellent digs.
"There's no problem how many sets as long as we win," Creamline coach Sherwin Meneses said after the one hour and 42 minutes match. "This is an important win for us, especially it's three sets because the points are important if there will be a tie before the finals. So just like in the eliminations, many lost on points. So it's an advantage for us to score three points here."
"Hopefully, next game, we'll play well and the team will improve because it's still far, there are two more games," he added.
Creamline will face Cignal on November 27 before taking on Chery Tiggo on November 29.
Opposite hitter Lindsay Mae Vander Weide led the Angels with 13 attacks and three blocks.
Middle blocker Mar-Jana Phillips contributed 11 attacks while Aiza Pontillas had 10 points, including three blocks.
Pontillas and Sheila Marie both produced 10 excellent digs while Djanel Welch Cheng made 12 excellent sets. (PNA)