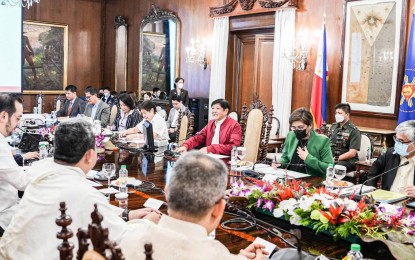 MANILA – President Ferdinand R. Marcos Jr. on Thursday said he wanted to more public-private partnerships in the healthcare sector to expand access to higher-quality health services in the country.
In a meeting with representatives of the healthcare cluster of the Private Sector Advisory Council (PSAC) at Malacañan Palace, Marcos said a public-private partnership coupled with strong third-party assessments would "address efficiency concerns in dealing with the health needs of Filipinos."
He likewise directed the Philippine Health Insurance Corporation (PhilHealth) to review the "best practices" on improving health insurance operations and offering health benefits through digitalization initiatives.
In 2019, the DOH launched its first public-private partnership project which aims to strengthen the implementation of the Universal Health Care (UHC) Law.
Entice nurses to stay
Meanwhile, Marcos renewed his call to find ways to entice Filipino nurses and other health professionals to stay in the country
"You can't hold people back from a better life, a better future… It's fair that you provide scholarships. We just have to find ways to keep them here," he said.
He earlier supported a proposal to implement a "ladderized" program to address the "brain drain" among nurses in the country.
A ladderized programs allow students to finish a short course, go out and work, and then return for a more advanced course or college degree.
Marcos also backed the passage of House Bill 9389 or the New Philippine Nursing Practice Act which seeks to institute reforms to further protect and develop the nursing profession in the country.
Department of Health (DOH) officer-in-charge Undersecretary Maria Rosario Vergeire earlier said the government is looking at "bilateral partners" to provide scholarship programs for medical students and professionals.
"Part of these discussions would be that with our bilateral relationships… we will have exchange programs or exchange conditions," Vergeire said.
She said enhancing scholarship programs for Filipino healthcare workers is also vital to addressing the concerns in the healthcare workforce. (PNA)