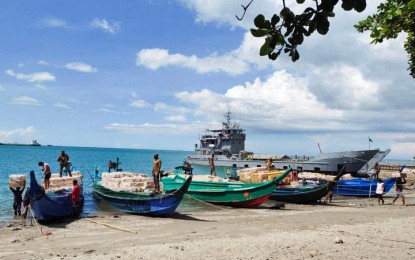 ZAMBOANGA CITY – Authorities have arrested 25 people and seized some PHP52.8 million worth of smuggled cigarettes in a joint anti-smuggling operation off this city, officials said Friday.
Rear Admiral Toribio Adaci Jr., newly-installed Navy Flag-Officer-in-Command and concurrent Naval Forces Western Mindanao (NFWM) commander, said the shipment was intercepted around 3:45 p.m. Wednesday in the seawaters off Barangay Labuan here.
Adaci said NFWM's Naval Task Force (NTF)-61 operatives composed of Navy Seals and intelligence personnel were conducting maritime patrol when they chanced upon five motorboats traversing the seawater off the village.
Upon coordination, Lt. Senior Grade Chester Ross Cabaltera, NFWM information officer, said operatives of the Joint Task Force-Zamboanga, Bureau of Customs and Philippine Drug Enforcement Agency (PDEA) joined the NTF-61 in the conduct of inspection on the motorboats which were found loaded with assorted cigarettes.
Cabaltera said the five motorboats were escorted to the Naval Station Romulo Espaldon which houses the headquarters of the NFWM here after the 25 crew aboard failed to present legal documents of their cargoes.
The motorboats were marked M/J Ramila 3, M/J Ramila 5, M/J Breena 1, M/J Breena 2, and M/J Breena 3.
Adaci said their joint inventory showed the five motorboats were loaded with 1,511 master cases of smuggled cigarettes.
He said the trafficked cigarettes came from Indonesia and were transported via the island province of Sulu.
Meanwhile, Mayor John Dalipe lauded the successful operation, citing anew his zero-smuggling directive to law enforcement agencies and security forces.
"I made it very clear at the beginning of our administration, smuggling in any form will not be tolerated in Zamboanga City," he said.
All the confiscated cigarettes, motorboats and crewmen were turned over to BOC for proper disposition. (PNA)