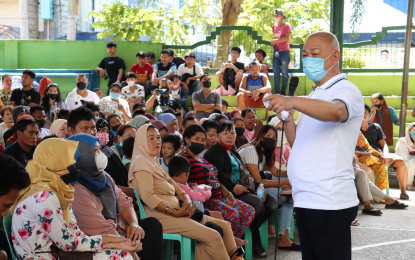 CAGAYAN DE ORO CITY – Mayor Rolando Uy urged "ambulant" vendors in the city to follow the laws and policies of the local government or forever be banned from selling in public markets.
In a statement on Friday, Uy sought understanding from the vendors, saying he hopes they would not waste the opportunity given to them where they could still sell their goods near public markets even without permits.
"Don't throw this opportunity away. If you can't follow the laws and would make disharmony, then I would no longer allow you to sell again," he said.
On Thursday, the local government started transferring ambulant vendors to designated locations near the Cogon Public Market.
For a time, vendors who have no stalls in the Cogon market sell their goods around the marketplace building, with temporary approval from the city government from 5 p.m. onwards.
However, incidents primarily causing heavy traffic during the late afternoon rush hour have elicited calls for the local government to address the situation.
Before the transfer, the local government gathered about 1,000 vendors on November 22-23 to orient them for their new selling site.
Nonito Oclarit, the city's Roads and Traffic Administration chief, said the city government has identified at least five streets where the vendors could be relocated.
He said police and barangay officials are on standby to keep the peace and order at the vendors' relocation sites in case of commotion. (PNA)