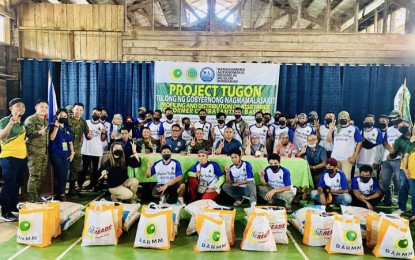 ZAMBOANGA CITY – Some 39 former Abu Sayyaf Group (ASG) members have received cash and food aid as the Bangsamoro Autonomous Region in Muslim Mindanao (BARMM) launched the Tulong ng Gobyernong Nagmamalasakit (TUGON) program in Basilan province.
In a statement Friday, the Joint Task Force (JTF)-Basilan said that each 39 former ASG members have received PHP5,000 cash aid. They will also receive family food packs for four consecutive months.
Project TUGON, a program under BARMM's Ministry of Interior and Local Government (MILG), was launched Wednesday in a simple ceremony at the headquarters of the 64th Infantry Battalion in Barangay Tumahubong, Sumisip, Basilan.
The program aims to facilitate the mainstreaming of former ASG members as productive citizens of the Bangsamoro community by providing them interventions to have a stable and uplifted status of life.
Project TUGON also provides reformation and reintegration assistance; capacity building and skills development through TESDA; livelihood assistance; entrepreneurial training; and housing provisions.
The JTF-Basilan said the 39 former ASG members have undergone profiling in order to assess the level of their needs and to help them become assets in nation building and advocators of peace and sustainable development in Basilan province.
"They are the living testimonies that going back to the folds of the law will give them freedom to live peacefully and harmoniously with their families," the JTF-Basilan said.
One of the 39 recipients, Nasir Sabtal, expressed his heartfelt gratitude to the Bangsamoro government for initiating projects like TUGON, which greatly contributed on their daily needs as they start a new life with their families.
Sabatal said that helping them is a great way in showing how government eagerly wanted them to change their spiritual thinking from a war-stricken mentality to a productive Basileño.
Meanwhile, Lt. Col. Abel Potutan, JTF-Basilan executive officer, lauded the effort of BARMM-MILG in facilitating the mainstreaming of the former ASG members through the TUGON program. (PNA)