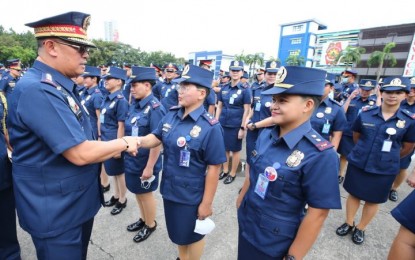 MANILA – A total of 157 technical professionals were inducted into the Philippine National Police (PNP) Officer Corps on Friday under the 2022 Lateral Entry Program.
PNP chief Gen. Rodolfo S. Azurin Jr. personally administered the oath of office to 95 of the Newly Appointed Police Commissioned Officers in ceremonies held at Camp Crame, Quezon City.
"As you take your oath today, may you always uphold the interest of the public over and above your personal interest. Let this significant breakthrough in your respective police careers motivate you to deliver competent and quality services for the benefit of our main clientele, the Filipino people, and to be the epitomes not only of the PNP's core values: service, honor, and justice, but also to be an embodiment of accountability and integrity because as public officers, we owe it to them and to our beloved country," Azurin said to the newly inducted officers.
Of the 157 new PNP officers, 69 lawyers, eight medical doctors, and one pastor were appointed with the initial rank of Police Captain and a basic monthly salary of PHP56,582.
The rest – a dentist, 29 nurses, two nutritionists/dieticians, one optometrist, 34 information technology (IT) professionals, three engineers, six chemists, and three registered criminologists, - were appointed with the initial rank of Police Lieutenant and a basic monthly salary of PHP49,528 with allowances and other cash and non-cash benefits.
After the oath taking, all of them were formally turned over to the Directorate for Human Resource and Doctrine Development to undergo the mandatory Officers' Basic Course and Field Training Program before reporting to their respective unit assignments.
In a media interview, Azurin said these technical professionals are crucial in strengthening the PNP's human resource and technical capabilities in serving the people, and addressing various challenges in their campaign against criminality, illegal drugs violent extremism, lawlessness, terrorism, natural and man-made disasters, and the coronavirus disease 2019 (Covid 19), among others.
The Lateral Entry Program for technical service officers is among the regular sources of Police Commissioned Officers in the PNP, aside from the cadetship program in the PNP Academy.
"With the ever-growing demand and complexities of public safety and law enforcement services, the PNP welcomes every opportunity to recruit professionals into the service from various fields, such as dentists, optometrists, engineers, and graduates of forensic sciences, licensed criminologists, doctors of medicine, and members of the bar, among others," Azurin said.
He said the doctors, dentists, and nurses will be assigned to the Health Service, the chemists to the Forensic Group, the pastor to Chaplain Service, the engineers to Engineering Service, and the IT professionals to the Anti-Cybercrime Group and Information Technology Management Service.
The PNP chief added that they are enjoining more technical professionals to join the police force.
"This is in line with the beefing up (of) the PNP with professionals coming from the technical service, especially lawyers and doctors, kailangan na kailangan po natin ngayon (we really need them now). So, sana yung mga interesado na mag-join sa (to those interested in joining the) PNP, we wanted to enlist doctors, engineers, and even lawyers," Azurin said. (PNA)