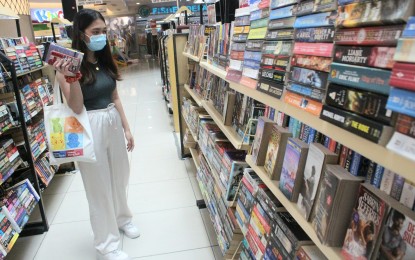 MANILA – The country is celebrating National Book Week from November 24 to 30 amid the struggle to arrest Filipino learners' dwindling reading proficiency.
Even before the pandemic struck, international large-scale assessments showed that learners were already struggling to meet the minimum required proficiency in reading, according to Senator Sherwin Gatchalian, chair of the Committee on Basic Education.
He pressed the need for programs and interventions that would improve Filipino learners' proficiency in reading.
"Ang pagbabasa ay isa sa mga pundasyon na dapat nating pagtibayin sa ating mga kabataan at mag-aaral. Ngayon natin higit na kinakailangang tutukan ang kanilang pagbabasa, lalo na't pinalala ng pandemya ang problema sa ating sektor ng edukasyon (Reading is one of the youth's foundationS that should be strengthened. More than ever, we should focus on that area as education suffered a lot since the pandemic broke out)," Gatchalian said in a news release on Saturday.
In the 2018 Programme for International Student Assessment (PISA), the Philippines scored lowest in Reading out of 79 countries.
The PISA further showed that only one in five Filipino learners aged 15 achieved at least the minimum proficiency level in Overall Reading Literacy.
The 2019 Southeast Asia Primary Learning Metrics, on the other hand, said only 10 percent of the country's Grade 5 learners achieved the minimum proficiency at the end of primary education.
The World Bank estimated that as of June, learning poverty in the Philippines is at 90.9 percent.
Learning poverty is defined as the percentage of 10-year-old children who cannot read or understand a simple story.
Gatchalian's Senate Bill 150 or the Academic Recovery and Accessible Learning (ARAL) Act seeks to institute a nationwide learning recovery program that will include well-systematized tutorial sessions and well-designed remediation plans.
The proposed ARAL Program will prioritize reading to develop the critical and analytical thinking skills of learners.
He also proposed to officially make every November National Reading Month under Senate Bill 475, to be celebrated with nationwide reading programs and activities and inculcate a culture of reading among basic education learners and their communities.
During the Annual National Congress of the Philippine Librarians Association, Inc. in Iloilo City on November 23, Vice President and Department of Education Sara Duterte emphasized the crucial role of librarians and access to public libraries to address learning loss and insurgency.
"Our librarians in the Philippines will always have a friend in the Office of the Vice President because I believe in your contribution to our education. Not just to our learners, but even to our adults. Lahat ng residents at lahat ng ating mga kababayan (All of our residents and countrymen), they deserve libraries everywhere they go and every place they visit," Duterte said in her speech.
She noted that one of the areas that need to be addressed in the post-pandemic learning loss is literacy so there is a need for the public to go back to reading.
"One of the crucial learning losses that the Department of Education wants to remedy is reading. Both parents and teachers play unassailable roles in the success of our campaign to ensure that our learners are able to read and understand what they are reading," she said.
The librarians' association, National Library of the Philippines, and National Commission for Culture and the Arts - National Committee on Libraries and Information Sevices are leading the National Book Week celebration, with the theme "Basa, Bayan, Bukas", loosely translated as read, country, for the future. (PNA)