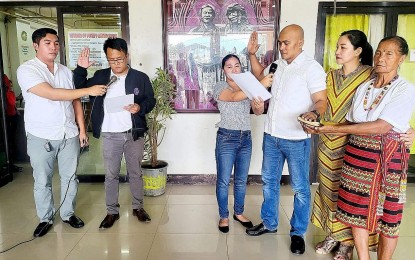 BAGUIO CITY – Marcos Ayangwa took his oath of office as the duly elected mayor of Paracelis, Mountain Province on Friday, nearly six months after the elections and since his disqualified rival sought the nullification of his win in the May 9 polls.
The Commission on Election (Comelec), in its November 25 decision disseminated late Friday, denied the motion for reconsideration filed by Avelino Amangyen in October and affirmed the resolution of the 2nd Division canceling Amangyen's certificate of candidacy (COC).
The Comelec disqualified Amangyen on April 19 for material representation in his COC.
On the question if he has been convicted of a case involving moral turpitude, Amangyen ticked the "No" box but was in fact found guilty of violating Presidential Decree 705 or the Forestry Code in 2013.
The conviction was upheld by the Court of Appeals and subsequently by the Supreme Court in 2018.
His case stemmed from a raid conducted by the police in his residence in Paracelis where several board feet of forest products not covered by permits were found.
He was meted out the penalty of reclusion temporal that carries an imprisonment of a minimum of 12 years and one day to a maximum of 20 years.
"A canceled certificate of candidacy void ab initio (from the beginning) cannot give rise to a valid candidacy, and much less to valid votes. Therefore, votes cast in favor of a candidate whose COC was canceled either before or after the elections, are considered stray votes. Being stray votes, should the candidate whose COC was canceled garner the highest number of votes, he cannot be proclaimed as the winner. It shall be the candidate who garnered the second highest number of votes who will be declared victorious," the Comelec-Baguio explained in a statement.
Despite the disqualification, Amangyen topped the polls with 9,220 votes while the reelectionist Ayangwa placed second with 5,185.
Before the resolution of the case, the Department of the Interior and Local Government appointed winning vice mayor Djarma Rafael to assume the post of mayor in an acting capacity. (PNA)