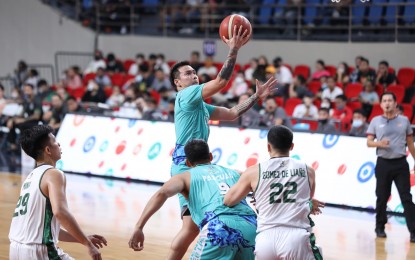 MANILA – Phoenix ended its campaign in the Philippine Basketball Association (PBA) Commissioner's Cup elimination round with a record-setting 135-84 win over Terrafirma at the PhilSports Arena in Pasig on Saturday.
The Fuel Masters even led by 55 points, 131-76, with 4:01 left, before settling for the 51-point victory.
The winning margin was four points shy of the record of U/Tex when it beat Great Taste, 154-99, on July 12, 1980.
They finished the first half ahead by 37 points, 67-30, the fifth all-time high in the league.
RR Garcia put up a game-high 20 points, one rebound, and three assists for Phoenix, which moved up to 6-6.
Import Kaleb Wesson and Encho Serrano added 17 points apiece, with the former grabbing 12 rebounds for the double-double.
Phoenix will need to watch the three remaining elimination playdates to find out if it will make the quarterfinals.
At best, it can advance to a best-of-three duel.
"We just made sure that we focused on ourselves and not the competition because the moment you disrespect the other team, you are going to fall flat on your back," Phoenix coach Topex Robinson said in the post-match interview.
Joshua Munzon made 12 points, two rebounds, three assists, and two steals, while Eric Camson added 11 points, 12 rebounds, and two assists for the Dyip, who ended their campaign dead-last at 1-11.
The Dyip also lost by 54 points to guest team Bay Area, 130-76, on October 21.
The scores:
PHOENIX 135 – Garcia 20, Serrano 17, Wesson 17, Perkins 16, Jazul 14, Lojera 11, Manganti 10, Tio 9, Mocon 8, Muyang 8, Anthony 3, Camacho 2, Adamos 0, Rios 0, Pascual 0.
TERRAFIRMA 84 – Munzon 12, Camson 11, Mina 10, Alolino 9, Javelona 9, Gomez de Liano 8, Tiongson 7, Ramos 7, Gabayni 6, Cahilig 5, Grospe 0, Balagasay 0.
Quarters: 26-13, 67-30, 107-61, 135-84 (PNA)