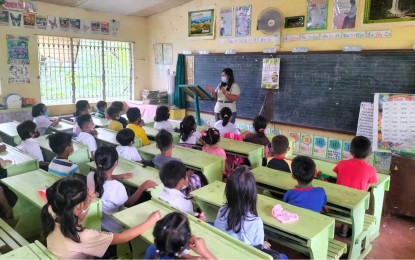 MANILA – The Department of Education (DepEd) must refocus on Reading and Mathematics to address studies that show primary graders are poorest in those subjects, Senator Sherwin Gatchalian said on Sunday.
At the same time, DepEd must review the Kinder to Grade 12 (K-12) curriculum and study the possibility of removing subjects
Gatchalian, chair of the Committee on Basic Education, said by returning to the basic tools of learning, students will be more prepared after the K-12 program.
"Back to basics tayo. Turuan magbasa at magbilang. Magbawas din ng mga subject kasi nawawala sa focus ang mga estudyante sa dami ng mga subject (Let's return to basics. Teach them how to read and write. Remove unnecessary subjects. Students are out of focus because of too many subjects)," Gatchalian said in a radio interview.
A 2018 study of the Program for International Student Assessment involving 15-year-old students in 79 countries ranked the country last in Reading and second to last in Science and Mathematics.
The Trends in International Mathematics and Science Study in 2019, meanwhile, showed the Philippines' fifth graders fared last in both subjects among 58 countries.
Gatchalian previously filed a resolution that aims to study amendments to Republic Act 10533 or the Enhanced Basic Education Act of 2013 (K-12 law).
"The implementation of an education reform as critical as the K-12 law must be sustained to fully attain its benefits but not without addressing these pressing issues that could compromise the effectiveness of the program and pose as stumbling blocks in providing quality education and achieving global competitiveness," Gatchalian said in his resolution.
The senator admitted that with limited funding, it will be hard to build more classrooms, which will need at least PHP430 billion, or more than half of the DepEd's 2023 budget of PHP629 billion.
Of the requested PHP430 billion for building classrooms, PHP30 billion was approved.
Gatchalian also defended the Confidential and Intelligence Fund (CIF) of DepEd which was slashed from PHP150 million to PHP30 million, saying they created an oversight committee to ensure that the budget will be properly used.
DepEd and other civilian agencies that availed of CIF must submit spending reports to the Office of the President, Congress and Commission on Audit, Gatchalian said.
He said DepEd's CIF will be used in monitoring school-based crimes such as child abuses, trafficking, and bullying as law enforcement agencies cannot always monitor the estimated 60,000 institutions and about 23 million learners. (PNA)