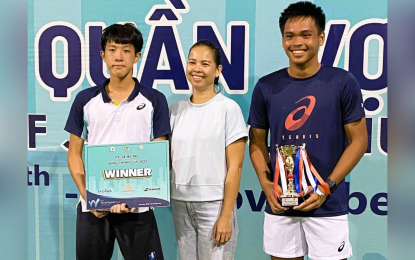 MANILA – Number 1 seeds Joewyn Rey Pascua of the Philippines and Pham La Hoang Anh of Vietnam were crowned boys' doubles champions in the second leg of the International Tennis Federation (ITF) Juniors category 4 tournament in Vietnam on Saturday.
They rallied past Ching Chang Chiu and Xiao Feng Zhou of Chinese Taipei, 7-6 (5), 4-6, 10-8 in the final match at the Phu Tho Tennis Club in Ho Chi Minh City.
Pascua and Pham walked over Chieh En Hou and Tzu-Cheng Liu in the first round to reach the quarterfinal round where they beat local pair Khang Quoc Thang Huynh and Xuan Duc Le, 5-3, 4-2.
In the semifinal round, they prevailed over another Vietnamese tandem, Tran Quoc Cuong and Quang Vinh Nguyen, 6-3, 3-6, 10-7.
In the singles category, the second-seeded Pascua settled for a runner-up finish after bowing to No. 7 seed Matthew Johnson of Singapore, 2-6, 6-1, 3-6.
During the first leg last week, the fourth-seeded Pascua made it to the singles semifinal but was ousted by local Vinhheien Truong, 4-6, 4-6.
Truong advanced to the final against compatriot Minh Tuan Dinh Viet, who eventually took the title, 6-3, 6-4.
Pascua reached the semifinal after defeating locals Ngoc Lam Cao in the first round (6-3, 5-7, 6-3), Dai Khang Nguyen in the second round (6-1, 6-4), and Johnson in the quarterfinal (7-6 (5), 6-4).
Unseeded Heinz Aslan Carbonilla, on the other hand, absorbed a 5-7, 1-6 first-round loss to Hong Kong's Hong Kiu Lau.
Seeded No. 2 in the doubles category, Pascua and Pham outplayed Carbonilla and Vietnamese Dai Khanh Nguyen, 3-6, 7-5, 10-6, in the first round to arrange a quarterfinal duel with Ching Chang Chiu of Chinese Taipei and Hyeon Seok Seo of South Korea.
Pascua and Pham conquered Ching and Hyeon, 7-6 (5), 6-4, to advance to the Final Four but were ousted by No. 4 seeds Minh Phat Nguyen and Vinhhein Troung, 3-6, 6-3, 7-10.
Minh and Vinhhein went on to clinch the title following a 6-2, 7-5 victory over the unseeded pair of Shun-Te Chou and Tzu-Cheng Liu from Chinese Taipei in the championship round.
Shun-Te and Tzu-Cheng marched to the final after eliminating No. 3 seeds Quang Vinh Nguyen of Vietnam and Johnston, 3-6, 6-2, 10-8.
Pascua, 17, hails from Mapandan, Pangasinan while Carbonilla, 16, is a native of Maranding, Lanao del Norte.
Both players are training at the Philippine Tennis Academy (PTA) headed by long-time tennis patron Romy Chan.
"For me, during the third set of the singles finals, Joewyn was a step slower already. It got him because he played nine sets the night before the singles finals," PTA head coach Jun Toledo said in an online interview on Sunday.
The team will return to Manila on Monday.
"I see very good potential in both of these boys. I see them as the future of Philippine tennis. I think they have a bright future ahead of them. Hopefully, these ITF outings will pave the way for a college education in the United States, just like the other PTA players (Francis Casey Alcantara, John Bryan Otico, Roxanne Resma, Khim Iglupas, and most recently, Arthur Craig Pantino). This has always been PTA's goal — to ensure that they have a good education anchored on their tennis talent!" added Toledo, who won the men's team silver medal with Joseph Lizardo, Bobie Angelo and Camoy Palahang in the 1995 Southeast Asian Games in Chiang Mai, Thailand. (PNA)