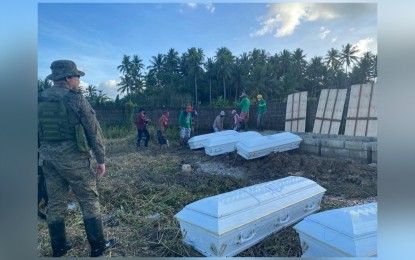 TACLOBAN CITY – Six slain members of the New People's Army (NPA) were given decent burials by local officials and the military in Las Navas, Northern Samar, days after their comrades abandoned their bodies following a gun battle with government forces.
The six rebels, two of them women, were buried Saturday at the Las Navas public cemetery, Philippine Army's 20th Infantry Battalion spokesperson 2nd Lt. Joyce Ann Bayron said in a phone interview on Monday.
"After the encounter, the NPA members left the dead at the battle scene in Imelda village in Las Navas. When the troops of the 803rd Brigade found them, they were immediately taken to the town center for a thorough examination," Bayron said.
Las Navas Mayor Arlito Tan held a wake for the rebels at the Las Navas Coliseum but no family members or friends showed up to claim the bodies.
Tan called on the remaining NPA members to surrender and lay down their arms.
"Come down because our government will help you have a happy and peaceful life by extending livelihood assistance," Tan added.
The encounter happened early morning of Nov. 23.
Government troops recounted strong resistance en route to the heavily fortified hideout which prompted the request for close air support and artillery fires.
Eventually, the major lair occupied by about 60 rebels was destroyed.
The slain rebels belonged to the NPA's Eastern Visayas Regional Party Committee, which the military has been hunting down for killing two soldiers during an attack in Barangay Dorillo, Jipapad, Eastern Samar.
The same attack injured a 10-year-old child and two soldiers tasked to monitor government projects.
At least 15 houses, community stage, communal toilet and the newly constructed village hall were also damaged.
Imelda is the most remote village in Las Navas town that can be reached after about two hours of motorboat ride and three hours of hiking.
It is close to the border of Eastern Samar. (PNA)