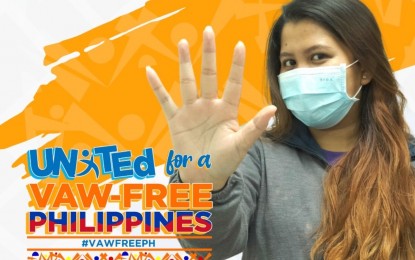 MANILA – Senator Imee Marcos is proposing to extend legal deadlines for filing cases of rape and other cases of Violence Against Women and Children (VAWC).
The prescriptive period is between 10 and 20 years for various degrees of VAWC offenses, which include stalking, peering, entering a dwelling against a woman's will, destroying her property, verbal and emotional abuse and public ridicule of a woman or child.
"Victims should be given more time to come out publicly. The personal trauma and the social stigma attached to reporting VAWC offenses cannot be underestimated," Marcos said in a statement on Monday.
Those who commit major VAWC offenses should be held accountable "for the rest of their lives" if they are either a parent, step-parent, ascendant, guardian, or relative within the fourth degree of consanguinity or affinity of the victim, she said.
In her Senate Bill (SB) No. 1535, Marcos wants to amend Section 24 of Republic Act 9262 or the Anti-Violence Against Women and Their Children Act of 2004 and Article 90 of the Revised Penal Code.
"Despite the country's unwavering efforts to develop effective legislation, inequities in power – economic, social, financial – persist," Marcos said.
If approved, the measure will make the time limit to sue major VAWC offenders "imprescriptible" when persons of authority, influence, or moral ascendancy in work, training, or education environments are involved in attempted or consummated rape, causing or attempting to cause a woman or child to engage in sexual activity not constituting rape, causing or threatening to cause physical harm, depriving or threatening to deprive a mother of custody of her child or of ample financial support for her child, and denying a woman her right to work or controlling her money or personal and conjugal property.
The global campaign to end violence against women is until Dec. 10 but has been extended in the Philippines to Dec. 12.
The campaign marks the historic signing in 2000 of the United Nations Protocol to Prevent, Suppress, and Punish Trafficking in Persons.
According to the Philippine Commission on Women, VAWC is among the gender-related issues in the Philippines that must be addressed despite the country being one of the top countries in Asia that provides equal opportunities for men and women.
Based on a recent data from the Philippine National Police, over 12,000 cases of VAW were reported in 2021, with at least 8,000 violations of the Anti-VAWC Act.
In the first half of 2022, VAW cases have hit 5,339.
The Philippines ranked 17th out of 156 countries in the World Economic Forum's (WEF) Global Gender Gap Report of 2021.
The WEF report said the Philippines made significant progress in closing gender gaps in economic participation and opportunity, and health and survival.
Filipino women outnumber men in senior and leadership roles in both technical and professional fields; literacy rates are high for men and women at 98 percent; and there are more women than men in secondary and tertiary education enrolment rates, the WEF report said. (PNA)