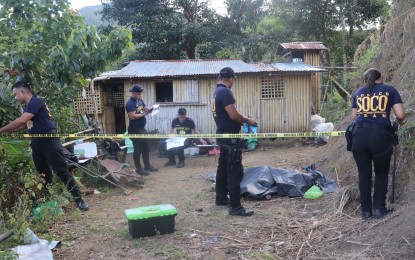 ILOILO CITY – The commander of the 3rd Infantry Division of the Philippine Army was saddened over the death of a member of the Communist Party of the Philippines-New People's Army (CPP-NPA) who, he said, was deceived to take part in the useless armed struggle.
"As much as possible, we want to make them realize that joining armed struggle is not the answer to attain peace, and we don't want another victim and lives to be wasted. We are so much concerned for their families suffering their loss," said Maj. Gen. Benedict M. Arevalo in a press statement on Monday.
The slain NPA member was identified as Domingo Costas alias "Evan/Ivan", Squad Member, Team 1, Squad 1, SDG Suyak, Southern Front, KR-Panay, who figured in an encounter with the 61st Infantry Battalion on Nov. 26 at Sitio Gibasya, Barangay Tigbanaba in Igbaras town, Iloilo province.
The encounter happened after the government troops responded to information from the community on the presence of more or less 10 members of the Suyak (SDG) Platoon, Southern Front-Kometing Rehiyon – Panay led by Jun Capio, alias "RonRon."
The exchange of gunfire led to the death of one rebel while the other members fled, leaving behind their dead comrade.
Government troops recovered from the site of the encounter two M16A1 rifles, one AK47 rifle, one M203 Grenade Launcher, one rifle grenade, improvised explosive device paraphernalia, other war materials, food packs, medical supplies and subversive documents.
Arevalo also reiterated his call for the remaining NPA rebels to lay down their arms, avoid the same fate as their comrade and avail of the government's programs intended for them.
He also assured security operations have been intensified by the military to maintain peace and security in the province of Iloilo.
National Security Adviser (NSA) Clarita Carlos who is also the vice chairperson of the National Task Force to End Local Communist Armed Conflict, in an earlier statement, lauded government troops for the successful operation. (PNA)