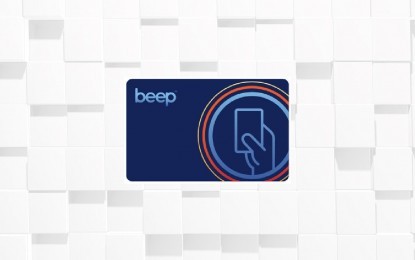 MANILA – Beep cards may now be purchased from several online stores as part of AF Payments, Inc.'s (AFPI) efforts to ease the shortage of cards in various train, bus and modern jeepney stations in the National Capital Region (NCR).
In a statement on Monday, AFPI--the operator of Beep stored value cards--has launched its official stores in Lazada, Shopee and Facebook Marketplace.
"With the opening of these digital sales channels, AFPI not only makes it more convenient for commuters to get a hold of their own Beep card, but also gives them the peace of mind that they will not be scammed when buying online," it said.
Priced at PHP188 excluding shipping fees, it said cards sold at online stores are more expensive compared to cards sold at the Light Rail Transit Line 1 (LRT-1), Light Rail Transit Line 2 (LRT-2), and the Metro Rail Transit Line 3 (MRT-3) as these are subsidized by AFPI and the Philippine government under a concession agreement in 2016.
"Like all other merchandise for sale in these e-commerce platforms, Beep cards may also be purchased with discount vouchers as applicable, and offers are good only until supplies last," it said.
It encouraged card owners to download the Beep mobile app to register their card and check their balance, monitor transactions, reward points and redeem rewards.
Beep cards may also be topped up online--with some smartphones able to utilize near-field communications (NFC) to read the cards--through digital banking and e-wallet apps including GCash, Maya, BPI, Share Treats, ShopeePay, Venio, Chinabank, LandbankPay, JustPay.to, Gateway Mobile, Posible, and Payloro. (PNA)