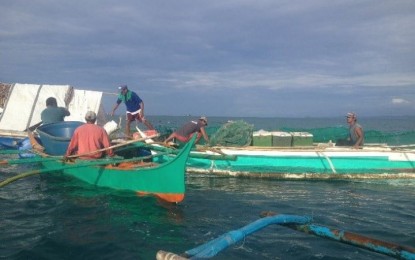 MANILA – The House Committee on Aquaculture and Fisheries on Monday approved House Bill 3380, seeking to establish fisherfolk resettlement areas by the Department of Agriculture (DA), Department of Human Settlements and Urban Development (DHSUD) and the local government units (LGUs).
The proposed bill, authored by Navotas City Representative Tobias Tiangco was intended to amend, for the purpose, Section 108 of RA 8550, as amended.
Committee chair Alfredo Marañon III (Negros Occidental, 2nd District) said HB 3380 is a re-filed bill and a similar version was approved by the House of Representatives on third and final reading during the 18th Congress, but failed in the Senate.
In the 15th Congress, the committee considered House Resolution 1411 which questioned the delay in the implementation of Section 108.
Among the reasons for the delayed implementation of Sec. 108 per the findings of the committee include:
-- Lack of credibility/profitability of Bureau of Fisheries and Aquatic Resources-Department of Agrarian, the lead agency to establish fisherfolk settlement areas, in coordination with concerned agencies and LGUs
-- Lack of coordination among agencies that should be involved
-- Lack of funds for the establishment of settlement areas
-- Lands of public domain are not under the jurisdiction, control and ownership of the DA
-- Land zoning authority lies with the LGUs
-- Absence of an IRR or implementing rules and regulations for Sec.108.
"Therefore there is a need for a directive to constitute a coordinative body to oversee the implementation of Section 108," Marañon said.
Tiangco said the re-filed HB 3380 emanated from HB 6876, the one which was approved in the 18th Congress.
Basically, the measure aims to revise Section 108 on Fisherfolk Settlement Areas so it will also involve other departments in the implementation phase, he added.
After approving HB 3380, the panel then tackled HB 2926, which would amend certain provisions of RA 8550, or the Philippine Fisheries Code of 1998, to create the Manila Bay Management Council (MBMC).
In 2018, the Supreme Court mandamus on Manila Bay tasked 14 government agencies to restore, preserve and protect the said bay area. Hence, the need for a single coordinative body that should direct the efforts of the mandamus agency.
"Hence it is fitting that the author filed this bill to integrate the management of Manila Bay for this purpose to create the Manila Bay Council which shall have supervision and control over Manila Bay," Marañon said.
The panel agreed to create a Technical Working Group (TWG) headed by Tiangco to collate the inputs of concerned stakeholders and finalize the draft version of the bill.
MMDA Acting Director II, Atty. Diane Dizon, and other resource persons expressed support for HB 3380. (PNA)