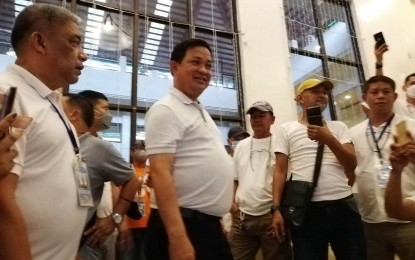 LEGAZPI CITY – Albay Governor Noel Rosal on Monday urged his supporters to remain calm and pray more as they await the Supreme Court (SC) decision on his petition for a temporary restraining order (TRO) pertaining to his disqualification case.
Rosal, who has just arrived from Metro Manila, said the magistrates would meet on Tuesday and hopefully discuss the TRO.
"Salamat sa inyong suporta, dyan ako minakusog dahil sa indo gabos (Thank you for all your support, because of this, I became stronger) ... So tomorrow, we need to pray harder, we are in a crucial position tomorrow. They (Supreme Court) will discuss the TRO and we hope from our prayers, and trust in the highest arbiters, we will get a good result," he told his supporters during a press conference at the Albay Capitol building.
Rosal believes the high court would hear the stand of the people of Albay.
"I believe that your voice has already reached Manila. I hope they will consider what is more right. I am praying not for myself but for all of us, for a peaceful Albay. To all, let's just relax, I hope that we will get the TRO that we want," he said.
Rosal said he needed more prayers although he believes the SC "knows what is right for the people. This becomes an issue not just here but in the entire country. Everywhere I go, they tell me that the people are with you."
Rosal went to Manila to attend to the status of his case with a new set of lawyers who will help him in his petition for certiorari.
Despite the case, he continues his function as Albay governor.
"I hope with the issuance of TRO tomorrow, we can focus again on the services needed by the Albayanos. Like the hospital, the transition of Albay Power and Energy Corporation to National Electrification Administration," he said.
However, he emphasized that he will abide by the decision of the Commission on Elections (Comelec) that will be implemented by the Department of the Interior and Local Government.
"I hope the people of Albay will accept it and move on. Regarding me, I will take a vacation, but I'm focused that the SC will give us the TRO, by God's grace," Rosal said.
On Nov. 25, the Comelec issued a certificate of finality in the petition for disqualification against the Albay chief executive.
In a decision of the Comelec on Sept. 19, Rosal was found to have violated Section 261 of the Omnibus Election Code (OEC) on the 45-day spending ban in the May 9, 2022 elections.
On Nov. 18, Rosal's motion for reconsideration was dismissed by the poll body, which said no new evidence was presented on the case.
The ruling of the Comelec en banc shall be final and executory unless restrained by the Supreme Court through a TRO or preliminary injunction.
Rosal's supporters here continue to ring the Liberty Bell at Peñaranda Park as a show of support and solidarity. (PNA)