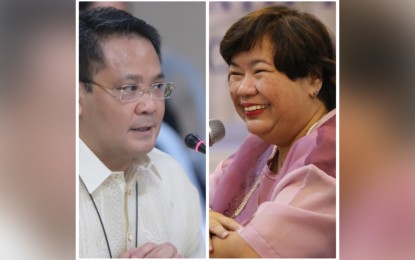 MANILA – The Commission on Appointments (CA) confirmed on Tuesday the appointments of Commission on Audit (COA) Chairperson Gamaliel Cordoba and Department of Migrant Workers (DMW) Secretary Susan Ople.
Cordoba, whose term will expire on Feb. 2, 2029, vowed before the CA that his desire "to serve and go the extra mile" are the principles and work ethics he intend to bring to COA.
"I vow for COA to be partners in rebuilding our country. This appointee hopes that his professional and personal background aptly justifies the President's decision to nominate him as COA chairperson. Ako po ay (I am) ready to serve, your honors," he told the CA Committee on Constitutional Commissions and Offices chaired by Senator Cynthia Villar.
Cordoba's appointment deliberation was initially suspended by Villar's committee last week after a passionate discussion on the issue of the ABS-CBN franchise.
Opposition Senator Risa Hontiveros raised the "injustice" suffered by the broadcast media giant while Cordoba was the head of National Telecommunications Commission.
Cordoba said all his actions were based on the law.
On the other hand, Ople vowed to be a true guardian and protector of overseas Filipino workers (OFWs).
"When my father, former DFA (Department of Foreign Affairs secretary) and Senate President Ka Blas Ople, died on Dec. 14, 2003, I pledged to dedicate my life to helping our migrant workers. It was and continues to be my way of honoring him, of keeping him close to me, and remembering the legacy that he worked hard for," Ople said.
She heads the Blas F. Ople Policy and Training Institute, a non-profit organization that is actively involved in labor and migration issues.
Ople is scheduled to visit the Kingdom of Saudi Arabia next week to arrange the settlement of wages of some 10,000 OFWs who were displaced in 2015 and 2016, visit embassy shelters, and look at potential job opportunities for OFWs.
In partnership with the Department of Health, Ople also plans to put up a scholarship fund for health care workers and balance the country's need for their services and the global demand.
Her other plans include the digital Overseas Employment Certificate, set for a December launch, to make it easier for OFWs to transact with the DMW and its attached agencies.
"Para sa akin po, bilang kanyang bunso, sa bawat OFW na aming natutulungan, katumbas nun ang isang bulaklak sa hardin ng kanyang alaala (For me, as his youngest, for every OFW we help, it is equivalent to a flower in the garden of his memory)," Ople said in honoring the legacy of her father, whom the late president Ferdinand E. Marcos Sr. often said was one of the brightest minds in his Cabinet.
Senate President and Commission on Appointments chair Juan Miguel Zubiri recognized Ople's record as an advocate of migrant workers' rights.
"If there is anyone in this world we can say that was born to the job and task, it is this honorable lady, Ma'am Secretary Toots Ople," Zubiri said. (PNA)