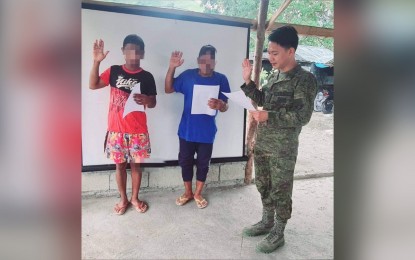 BALER, Aurora – Two former members of the New People's Army (NPA) who want to start leading new lives with their respective families this Christmas have surrendered to the 91st Infantry Battalion (91IB) of the Philippine Army on Monday.
Lt. Col. Julito B. Recto Jr., 91IB commander, said Tuesday the two former rebels turned themselves in to the Alpha Company of the 91IB based in Gabaldon town, Nueva Ecija province.
He said the rebels, who requested to be identified only as "Ka Yoga" and "Ka Lando," are both members of an indigenous peoples community in Dingalan, Aurora.
The two, after being recruited into the communist armed movement, operated in Quezon province, Recto added.
"We asked our relatives to have a dialogue with the 91IB to help us to live a new and peaceful life and to be with our loved ones since Christmas is fast approaching. We wanted to be happy this Christmas," the former rebels were quoted as saying in the vernacular.
Recto also said the Alpha Company troops retrieved one M16 rifle which the surrenderers admitted hiding in Sitio Uyungan, Barangay Umiray, General Nakar town in Quezon province.
"It always brings joy to our hearts to welcome those former NPA rebels who decided to go back to the folds of our laws. They were both tribes and victims of the lies, propaganda and deception of the terrorist organization. We assured them that they can spend and be happy together with their families this Christmas," Recto said.
He urged the remaining members of the NPA to lay down their arms and avail the benefits of the government's Enhanced Comprehensive Local Integration Program (E-CLIP).
"Let us embrace peace and celebrate Christmas with your family. Our government is here to assist you in your reintegration into mainstream society. We will help you," Recto added. (PNA)