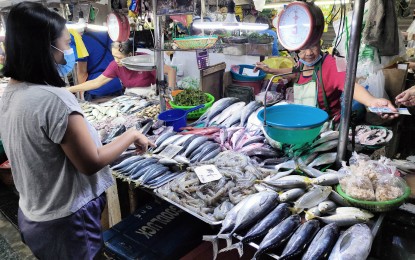 MANILA – Cavite Rep. Elpidio Barzaga Jr. on Tuesday called for a congressional investigation into the Bureau of Fisheries and Aquatic Resources' (BFAR) crackdown on the unauthorized sale of imported frozen fish in wet markets.
He said BFAR should explain the legal basis of its undergoing campaign against the sale of imported pompano and pink salmon.
Barzaga said there is a need to investigate if the BFAR is correct in claiming that the move was based on laws and regulations such as the Philippine Fisheries Code of 1998 (Republic Act No. 8550), Fisheries Administrative Order (FAO) 195, Fisheries Memorandum Order (FMO) No. 001, FAO 259 and Certificate of Necessity to Import.
"This is to determine if there is a violation of the Constitution, discrimination against local fish vendors and if the present regulations only encourage smuggling, graft and corruption that does not protect the general public, the environment and promote the general welfare," Barzaga said in House Resolution No. 600.
He said the measure would ascertain "whether BFAR's administrative orders and memorandum order are evidence based" and if its implementation is in order.
The agency claimed that pompano and pink salmon are not included in the Certificate of Necessity to Import (CNI), which listed imported fish products that can be sold on wet markets.
Section 2 of FAO 195 states that the importation of fresh/chilled/frozen fish and fishery/aquatic products "shall be allowed when certified as necessary by the Secretary in order to achieve food security taking into consideration public welfare and safety, in consultation with the National Fisheries and Aquatic Resources Management Council (NFARMC). Provided, that the importation of fresh/chilled/frozen fish and fishery/aquatic products for canning and processing purposes including importation undertaken by institutional buyers does not require such certification."
Barzaga pointed out Section 1 of FMO No. 001, Series of 2000 requires institutional buyers to obtain an authority to import from the BFAR.
He said there is also a need to examine BFAR's directive in excluding other fish such as pompano and pink salmon in the CNI.
"There should be an investigation to determine if the alleged prohibition applies to both local fish vendors and institutional buyers or to the former only and consequently, why a similar crackdown is not being done against institutional buyers thereby discriminating against local fish vendors," he said.
Barzaga added that BFAR should define the meaning of "institutional buyers" avoid confusion in the interpretation and implementation of their administrative orders.
In the Laging Handa public forum on Monday, BFAR spokesperson Nazario Briguera clarified that the crackdown is neither new nor late in the implementation of FAO 195.
Senator Raffy Tulfo likewise wants a review on the policies and composition of the National Fisheries and Aquatic Resources Management Council and warned BFAR against the ban.
In a privilege speech on Tuesday, Tulfo said BFAR's more than two-decade old FAO is anti-poor.
He said BFAR must coordinate with the Bureau of Customs and ports to ban the importation of the fish varieties instead of prohibiting wet market vendors from selling them.
"Ang mayaman na restaurant at hotel nakakalusot sa pag-import ng isda pero ang mahihirap na tindera hindi pwede (Big restaurants and hotels manage to import them but the poor vendors cannot). This is a clear violation of equal protection. Malinaw na discrimination ito laban sa mga maliliit na tindera sa merkado (Clearly, this is discrimination against small market vendors). And more importantly, BFAR went beyond the provision of the law)," Tulfo said. (PNA)