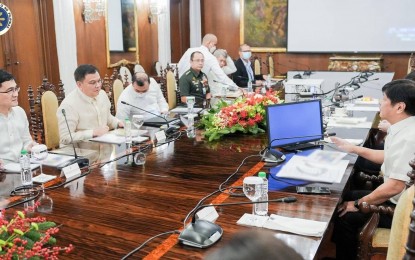 MANILA – President Ferdinand R. Marcos Jr. on Tuesday met with the officials of the Department of National Defense (DND) to discuss the 10-point defense agenda.
The meeting between Marcos and Defense officials led by DND officer-in-charge Undersecretary Jose Faustino Jr. was held at the State Dining Room of Malacañan Palace in Manila, according to a Facebook post by state-run Radio Television Malacañang (RTVM).
Faustino, during the meeting, presented to Marcos the DND's 10-point defense agenda which will help the agency boost its capability to deal with national security issues, the Office of the President (OP) said in another statement posted on its official Facebook page.
"The DND, on the other hand, discussed with the Commander-in-Chief the 10-point defense agenda aimed at improving the agency's capability to respond to various aspects of national security," the OP said.
The RTVM said Faustino also assured Marcos of the DND's commitment to align its policies with the national government's agenda for a "stronger" Philippines and strengthen its efforts in protecting Philippine territory.
"OIC Senior Undersecretary Jose Faustino Jr. highlights the DND's 10-point defense agenda covering the following areas: sovereignty and territorial integrity; internal security and stability; disaster resilience and climate change adaptation; cyber defense; modernization, capability and capacity development; security cooperation and engagements; Reserve Force development; welfare of soldiers, veterans and civilian human resource; legal and legislative agenda; and protection of cognitive domain," it said.
The DND also gave an update on its "significant accomplishments," the RTVM said.
The RTVM, however, did not elaborate on the DND's presentation of its accomplishments.
In July, Faustino said the 10-point defense agenda will serve as guidelines to align the DND's policies with Marcos' promise of a stronger and better Philippines through national unity, nation-building and economic recovery.
Faustino said the agenda is envisioned to build a "united DND that is not only formidable but can readily thrive under the direst of circumstances." (PNA)