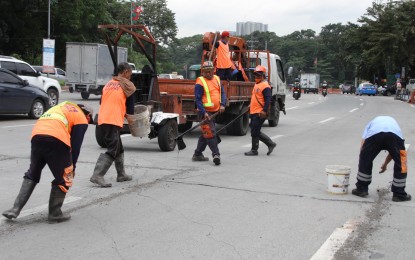 MANILA – Senator Mark Villar wants all government contractual workers to receive 13th-month pay because just like permanent employees, they are also doing their jobs religiously.
Villar has filed Senate Bill 1528 or the 13th Month Pay Law for Contractual and Job Order Personnel to provide the benefit to all government workers, according to a news release on Tuesday.
Villar said Contract of Service (COS) and job order (JO) workers play vital roles in government service.
Some 642,000 non-permanent government workers will benefit once the proposal is passed into law.
"They fulfill their duties diligently and passionately comparable to permanent government employees. Notwithstanding, they are not entitled to midyear and yearend bonuses, such as the 13th-month pay, among other benefits," Villar said in his explanatory note.
Villar explained that during his tenure as Public Works and Highways secretary, he personally saw the government employees' need for the benefit.
The measure mandates the payment of 13th-month pay to all government employees regardless of their employment status.
Villar said the 13th month pay is needed amid the rise of the inflation rate, which led to an extraordinary increase in prices of food, fuel and other commodities.
The minimum amount available for contractual and job order personnel shall not be less than one-half of the monthly salary, based on their current contracts.
"Passing such a proposal should be a priority while there is still time left. This is our way of recognizing their notable contributions and their service to the government. This is our appreciation for their hard work and sacrifice and for ensuring that the government is able to provide programs to our people throughout the year," Villar pointed out.
The tenure of COS and JO workers from the previous administration are extended until Dec. 31.
Contract of Service is "the engagement of the services of an individual, private firm, other government agency, non-governmental agency or international organization as consultant, learning service provider or technical expert to undertake special project or job within a specific period," according to the Civil Service Commission (CSC).
Job Order is defined as "piece work (pakyaw) or intermittent or emergency jobs such as clearing of debris on the roads, canals, waterways, etc. after natural/man-made disasters/occurrences and other manual/trades and crafts services such as carpentry, plumbing, electrical and the like. These jobs are of short duration and for a specific piece of work."
Under the law, an employee cannot be appointed to a regular or permanent position without CSC eligibility even if the education, experience, and training requirements are met. (With a report from Leonel Abasola/PNA)