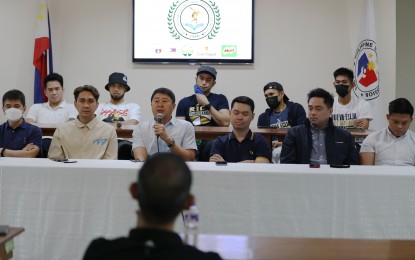 MANILA – Zamboanga and Nueva Ecija will be in for a wild ride as they face off in the Maharlika Pilipinas Basketball League (MPBL) Finals beginning on Friday night at the Nueva Ecija Coliseum in Palayan City.
Coaches Vic Icasiano and Jerson Cabiltes said in the pre-finals press conference conducted over the Philippine Sportswriters' Association (PSA) Forum on Tuesday at the Philippine Sports Commission Conference Room inside the Rizal Memorial Sports Complex that they expect a tight best-of-five series for the national championship.
"Expect a very good finals series," Cabiltes said. "May the best team win."
Holding homecourt edge throughout the series by virtue of having the better regular season record, Nueva Ecija is tipped as favorite to win it all, especially since the team set the Philippine record for the longest single-season winning streak in professional basketball with 25 straight victories to start the season.
Icasiano is crediting it to the team's chemistry that has been evident since the core of the squad led by Jonathan Uyloan and Hesed Gabo, who were also present in the PSA Forum along with Renz Palma.
Following the MPBL Invitational last year, where Basilan and Nueva Ecija met in the finals, the two squads were basically merged into one unit with Nueva Ecija keeping its name, and the squad ruled the FilBasket Summer Championships, which technically served as the squad's MPBL preseason event.
"We know that they've been together for the longest time, so tingin namin yun talaga ang magiging problema (we thought that would be the problem)," Icasiano said.
However, Cabiltes is also wary of what Zamboanga is capable of with Jaycee and Jayvee Marcelino and Jhaps Bautista, as well as Joe Lacastesantos, even saying that anyone could be a threat.
"Zamboanga is the number one team in the South. They have very good and talented players like the Marcelino Twins and Jhaps Bautista. They have very strong and deep bigs—Jhaymo [Eguilos], [Jayson] Grimaldo, and Adi Santos—and veterans like Chito Jaime, so they're a very complete team. They have very good defenders in [Jeff] Comia, [Chino] Mosqueda, and [John] Mahari," Cabiltes said.
As a testament on how tight the MPBL National Finals could be, Nueva Ecija only won by five points, 81-76, against Zamboanga in their lone regular season meeting on Aug. 8 also at the Nueva Ecija Coliseum.
Commissioner Kenneth Duremdes projects that the brooms would not be brought out in the national finals, that is, a sweep is not expected in the series just like how the division finals went.
Both Zamboanga and Nueva Ecija needed to bounce back from Game 1 losses at home and complete reverse sweeps in the best-of-three national semifinals last week to set up the grudge match for all the marbles.
Game 2 will also happen at the Nueva Ecija Coliseum on Monday night before the series shifts to the Vitaliano Agan Coliseum in Zamboanga City for Game 3 next Friday.
If necessary, Game 4 will be played on Dec. 12 also in Zamboanga City and Game 5 is scheduled on Dec. 16 back in Palayan. (PNA)