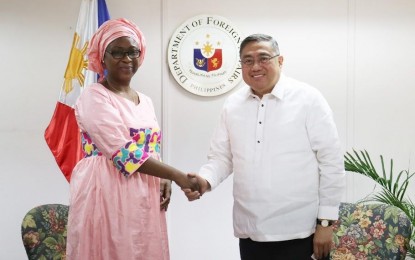 MANILA -- A United Nations expert on sale and sexual exploitation of children is in the Philippines until Dec. 9 at the government's invitation.
UN special rapporteur Mama Fatima Singhateh arrived in Manila on Nov. 27 and will examine the country's efforts to protect children against sexual exploitation, child marriage, and sale of children through illegal adoptions, among other concerns.
She will meet with officials from the Council for the Welfare of Children, the Department of Social Welfare and Development, the Department of Justice, the Presidential Human Rights Committee Secretariat, the Philippine National Police, and other relevant government agencies.
She will also meet with civil society representatives, private sector stakeholders, and children and their families.
Besides Metro Manila, she will visit sites in the cities of Valenzuela, Angeles, Cotabato, and Cebu.
At a courtesy call on Nov. 28, Foreign Affairs Undersecretary for Multilateral and International Economic Affairs Carlos Sorreta expressed hope that Singhateh would "recognize the achievements and best practices of the Philippine Government to eradicate online sexual exploitation of children."
He cited Republic Act 11930, an Act Punishing Online Sexual Abuse of Children, and the National Coordination Center to combat online sexual exploitation of children as examples.
He emphasized that "international cooperation and shared responsibility amongst countries is required to address external demand factors that fuel online exploitation of children."
He highlighted that the Philippines remains committed to safeguarding all Filipino children and upholding its obligations under the Convention on the Rights of the Child.
Singhateh's trip is the first official visit of a UN Special Rapporteur to the country since 2015, which the expert noted reflected the Philippine government's continued constructive engagement and openness on human rights.
UN Special Rapporteurs are independent experts appointed by the UN Human Rights Council to study and address various human rights issues, as well as provide advice and support to UN Member States.
Sorreta, for his part, assured Singhateh of Manila's cooperation to ensure the success of her visit, and that the Philippines looks forward to her observations and recommendations.
"We hope to continue working with you, also regionally and globally, to support your mandate and enhance protection of all children from online sexual exploitation," he stated.
Singhateh will present a comprehensive report of her country visit to the Human Rights Council in March 2024, the UN High Commissioner for Human Rights Office said. (PNA)