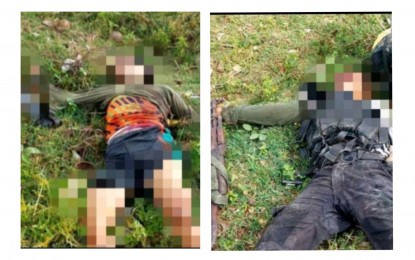 BACOLOD CITY – A 40-minute firefight claimed the lives of two Communist Party of the Philippines-New People's Army (CPP-NPA) rebels and led government troops to recover several high-powered firearms in the remote village of Quintin Remo in Moises Padilla town, Negros Occidental province on Monday.
In a report on Tuesday, the Philippine Army's 62nd Infantry Battalion (IB) identified the fatalities as Johnhill "Mark" Sarsa, a resident of Barangay Planas, and Dalmacio "Delmar" de la Torre, of Barangay Trinidad, both of Guilhulngan City, Negros Oriental.
Sarsa is a political officer while De la Torre is a member of Sandatahang Yunit Pampropaganda Platoon Lenovo of the NPA's Central Negros Front 1.
Brig. Gen. Inocencio Pasaporte, commander of the 303rd Infantry Brigade, said in a statement that the 62IB led by Lt. Col. William Pesase Jr. is always ready to conduct law enforcement operations through the legitimate use of force against threat groups that endanger the people's well-being.
"The dedication to duty you have exhibited during the encounter with the members of the NPA is incomparable," Pasaporte told the troops, who engaged about 15 communist terrorists after receiving reports of their harassment and extortion activities in the area.
"I commend the residents of Barangay Quintin Remo for the quick information given to the troops," he added.
During the clearing operation, the soldiers found various weapons, including two M16 rifles with seven magazines; one AK 47 rifle with three magazines; one .357 Magnum revolver with ammunition; one M14 rifle; one M203 grenade launcher; two rifle grenades; and 140mm high explosive ammunition.
Meanwhile, the bodies of two NPA rebels were turned over by the 62IB to the Moises Padilla Municipal Police Station and Municipal Disaster Risk Reduction and Management Office.
"We call on the retreating NPA rebels to surrender peacefully. Those who are wounded, you will be treated," the 62IB appealed in a statement. (PNA)