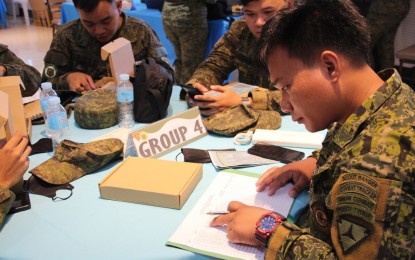 MANILA – The Philippine Army (PA) announced that 883 company commanders and platoon leaders have completed its four-month-long "combat leadership enhancement program" (CLEP), which seeks to enhance their command potential.
In a statement Tuesday night, PA spokesperson Col. Xerxes Trinidad said the CLEP was conducted in a hybrid manner, via in-person training and video conferencing, at the headquarters of Army divisions from August 23 to November 25.
It was conducted by the PA assistant chief of staff for education and training, G-8, and the Army Leadership Development Center of the Training and Doctrine Command.
"With the CLEP's theme, 'Enhancing Army Leadership Acumen to Achieve Victory Against Threat to National Security', the program includes the Company Commanders Symposium and Platoon Leaders Combat Proficiency Symposium, which enhance the tactical competence and combat effectiveness of the soldiers through sharing of best practices around a multifaceted operational environment in their respective area of operations," Trinidad said.
He said the CLEP develops and strengthens the troops' command and leadership potential to empower them on becoming responsive and effective leaders of the organization's desired administration and operational results amid a volatile, uncertain, complex, and ambiguous operational environment.
PH Army Armor Division gets new acting commander
Meanwhile, Trinidad said Brig. Gen. Facundo Palafox IV has been appointed as the acting commander of the Capas, Tarlac-based Armor Division of the PA.
The assumption of command took place at Camp O'Donnell, Sta. Lucia, Capas, Tarlac and was presided by PA commander, Lt. Gen. Romeo Brawner Jr.
Palafox replaced Maj. Gen. Efren Baluyot, who was promoted to head the Southern Luzon Command.
Before his appointment, Palafox served as the assistant division commander of the unit.
He also led various units, such as the 2nd Mechanized Infantry Brigade, the Civil-Military Operations Regiment, and the Office of the Chief of Staff for Civil-Military Operations.
Palafox is a member of the Philippine Military Academy (PMA) Class of 1990 and graduated from the Development Academy of the Philippines with a master's degree in public management, major in development and security.
Meanwhile, Baluyot is a member of PMA Class of 1989. Under his leadership, the Armor Division contributed to the defeat of New People's Army insurgents and other local terrorist groups in the country. (PNA)