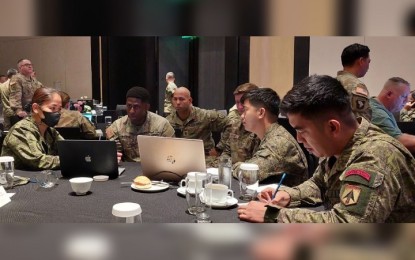 MANILA – Philippine Army (PA) and US Army Pacific (USARPAC) planners have begun their week-long planning session for larger "Salaknib" military exercises in 2023.
In a statement Tuesday night, Army spokesperson Col. Xerxes Trinidad said the planning conference, held at the Hotel Conrad in Pasay City, began on November 28.
"PA and USARPAC Salaknib planners are finalizing plans for the combined exercise that will include around 3,000 troops from the USARPAC's 25th Infantry Division and various PA major units," he added.
"Salaknib", which means shield in Ilocano, is an annual combined exercise geared at strengthening the interoperability of Filipino and American armies in a spectrum of military operations.
About 2,200 Filipino and US Army troops participated in this year's edition of "Salaknib", which took place in March.
These troops focused on the capability development of the 1st Brigade Combat Team, the PA's primary combined arms, and rapid deployment unit.
"When you plan, you plan to succeed. And so, as we all work towards yet another successful execution of Exercise 'Salaknib' next year. May every planner from both sides be all the more committed and dedicated as we finalize the concept of operations, settle the schedule of events and activities, confirm force commitments and asset requirements, and complete all essential requirements for the execution proper," PA deputy assistant chief of staff for education and training, Col. Emmanuel L. Cabasan, said during the opening of the conference.
PA commander Lt. Gen. Romeo Brawner Jr. earlier said the annual combined exercise is a testament to the "long-standing bilateral relations" between the Philippines and the US that would contribute to the pursuit of a common goal of maintaining a free and open Indo-Pacific region.
Reservist caravan in Congress
Meanwhile, Trinidad said the PA held a reservist caravan and information drive aimed at encouraging lawmakers and their legislative staff to join the Army's reserve force at the House of Representatives in Quezon City on Tuesday.
PA vice commander Maj. Gen. Adonis Bajao and key officers from the PA headquarters graced the reservist caravan that featured orientations on how to join the Army's reserve component.
The caravan featured celebrity reservist 1st Lt. Ronnie Liang who discussed the PA's reserve force development thrust to the House's legislative staff.
PH Army top brass visits solons
Also on Tuesday, the PA Legislative Advisory Board (PALAB) led by Bajao paid a courtesy call on House Deputy Speaker and Army reserve Col. Isidro T. Ungab at the Batasang Pambansa in Quezon City.
Bajao and key officers from the Army made a courtesy call to Ungab who represents Davao City's third legislative district and Davao del Sur Rep. John Tracy F. Cagas as part of the PA's legislative stakeholders engagement thrust.
"The discussion between the PA delegation and lawmakers centered on the proposed revival of the mandatory Reserve Officers' Training Corps (ROTC) program at the college level and the Army's reserve force development thrust," Trinidad said.
They also tackled the revitalization of the Self-Reliant Defense Program and other pressing issues in the defense sector. (PNA)