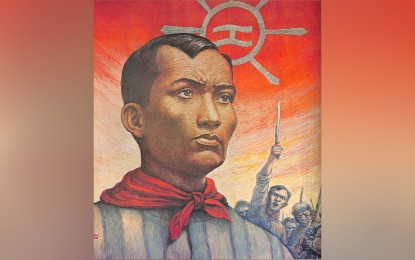 MANILA – The people of Novaliches in Quezon City and Caloocan City celebrated the 159th birth anniversary of Katipunan founder Andres Bonifacio with floral offerings at his monument at Plaza Novaliches along Quirino Highway on Wednesday morning.
The celebration was sponsored by the Knights of Columbus Ferdinand Magellan Province (Philippines) - North Luzon Jurisdiction, with Kristong Hari Assembly ACN 3809 as the host.
The flowers came from the office of Quezon City Mayor Joy G. Belmonte, Quezon City Police District - Novaliches Station 4 Commander Lt. Col. Jerry O. Castillo, Novaliches Proper Barangay Captain Asuncion Visaya, the Bonifacio Family of Novaliches, and District 5 Councilor Joseph Visaya.
Dr. Patricia Anne P. Bonifacio, a great-granddaughter of Gat Andres Bonifacio, delivered a message wherein she cited some of the most notable incidents that made the Katipunan founder one of the country's foremost heroes. (PNA)