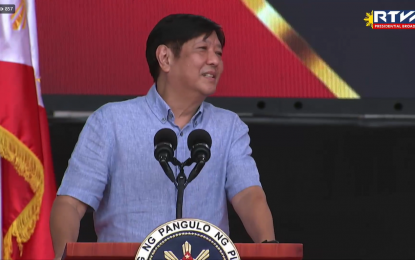 MANILA – The majority of Filipinos have expressed appreciation over the work performance of and have given their trust in President Ferdinand R. Marcos Jr., according to OCTA Research's latest survey.
OCTA Research, in its Tugon ng Masa poll conducted from October 23 to 27, found that 78 percent of 1,200 adult Filipinos appreciate Marcos, while 86 percent trust the Chief Executive.
Only 5 percent were dissatisfied with Marcos' performance, while 4 percent expressed distrust in him.
Marcos earned the highest approval score in Mindanao, registering 85 percent, followed by Visayas (81 percent), Metro Manila (75 percent), and the Balance of Luzon (74 percent).
He also received a high approval rating from respondents belonging to Classes D or middle class (79 percent), E or the poorest of the poor (77 percent), and ABC or the upper middle class (67 percent).
Marcos' trust rating was also highest in Mindanao (92 percent) and among those from Class E (90 percent).
A high trust rating was also recorded in the Visayas and Class D (both 87 percent), Balance of Luzon (84 percent), Metro Manila (82 percent), and Class ABC (78 percent).
Meanwhile, Vice President Sara Duterte-Carpio also posted high trust and approval scores at 86 percent and 80 percent, respectively.
The survey found that 100 percent of adult Filipinos are aware of Marcos and Duterte-Carpio.
OCTA Research conducted the October 23-27 survey, using a ±3 percent margin of error.
OCTA Research also released a survey that showed that 85 percent of adult Filipinos believe that the country is on the right track under the Marcos administration, with only 6 percent expressing disagreement.
Marcos, in a media interview on Tuesday, described the poll results as "very encouraging," saying it is vital for government policies and programs to be felt by Filipinos across all socioeconomic classes. (PNA)