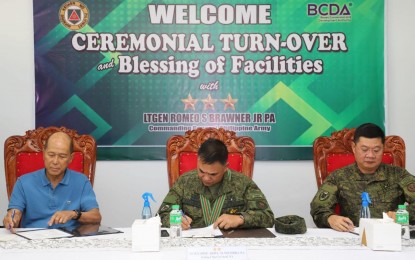 MANILA – The Philippine Army (PA) announced that the Army Support Command (ASCOM) based in Camp Servillano Aquino, Tarlac City formally received 21 newly completed facilities from the Bases Conversion and Development Authority (BCDA) on Wednesday.
The ASCOM facilities project is part of the 2017 memorandum of agreement signed by BCDA and the Department of National Defense for the relocation of Army facilities from an 11.5-hectare portion of Fort Bonifacio to Camp Servillano Aquino, the headquarters of the Armed Forces of the Philippines-Northern Luzon Command.
In a statement Wednesday night, Army spokesperson Col. Xerxes Trinidad said BCDA chair Delfin Lorenzana and PA acting chief of staff Maj. Gen. Jose Eriel Niembra, representing Army commander Lt. Gen. Romeo Brawner Jr., signed the document for the turnover of the facilities in a ceremony at Camp Servillano Aquino.
"Maj. Gen. Niembra said relocating and constructing modern ASCOM facilities at a strategic location in Camp Servillano Aquino will bolster the unit's capability to provide logistical support to ground forces," Trinidad said.
He added that the facilities are expected to provide a better logistics, storage and management hub for ASCOM which is tasked to provide firepower, transportation, organizational, and maintenance equipment support to PA major units. (PNA)