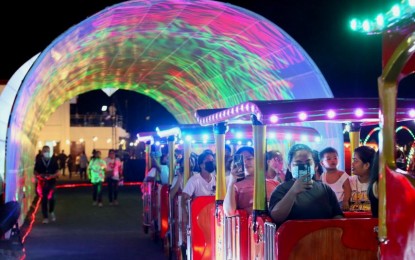 MANILA – The Taguig Lakeshore Hall on Wednesday night opened its "Christmas by the Lake" attraction for the holiday season.
Mayor Lani Cayetano said the area which transforms into a Christmas village at nighttime will feature outdoor attractions and an energy-efficient Christmas lights display which symbolizes the Taguigueños' faith and resilience to rise from the darkness caused by the coronavirus pandemic.
"We all know that the Filipinos went through two years of sadness, fear, suffering, everything and this is the first time that we are open and free to return to our usual activities we know all over the world Christmas in the Philippines is really different. Full of color, full of lights and that's what we want to achieve tonight, is to make our Taguigeno citizens happy for the List of Christmas that we have prepared," Cayetano told reporters.
She said the new attraction also reflects the values of the community and the city's identity as a "probinsyudad" (a mixture of a province and a city).
"This is also an opportunity for us to introduce to our compatriots here in the Philippines the beauty of our Lakeshore community in Taguig. Normally when we mention Taguig, BGC always immediately comes to mind, our CBD (Central Business District) automatically registers in our minds but our Lakeshore community also has a unique charm and that is what we want to show you all that is Lakeshore. Taguig's community is as energetic, as vibrant and in fact deep because it touches on the history and tradition of us Filipino," Cayetano stressed
Aside from Christmas light displays, visitors can enjoy Christmas-themed installations, including Little Drummer Boy and nativity scenes.
The facility also features other family-friendly rides, activities and shows.
A village train and walking tour will take visitors through the three zones of "Christmas by the Lake" -- Lights of the City, the Heart of Christmas and the Spirit of Christmas.
Visitors can also express the things they are thankful for and their wishes for the New Year at the village's "tree of gratitude".
The public can also enjoy other attractions such as the Aqua Luna Lights and Sounds Show featuring laser and beam animations synchronized to beautiful sound effects and an aerial light show called Sinagtala.
A larger-than-life walkthrough kaleidoscope to have Instagram-worthy pictures will also be available at the Interactive Art Murals while couples can have a romantic walk along this pathway filled with lights while you soak in the gorgeous park views at the Walkway of Lights.
Those looking for good food can also try a variety of meals in the native kubos (nipa huts) elevated from the water by wooden stilts, or at the Mercado del Lago stalls.
The Christmas village opens at 5 p.m. until midnight. (PNA)