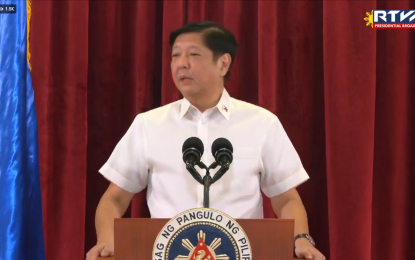 MANILA – President Ferdinand R. Marcos Jr. on Thursday expressed satisfaction over the work performance of the acting heads of the Department of Health (DOH) and the Department of National Defense (DND).
Marcos, in a chance interview in Quezon City, said he is not yet keen on appointing new health and defense chiefs since DOH officer-in-charge (OIC) Undersecretary Maria Rosario Vergeire and DND OIC Undersecretary Jose Faustino Jr. are able to fulfill their respective mandates.
"Let's be patient. Basta't na… Ako, ang concern ko lang 'yung kailangang gawin na trabaho, nagagawa. So far naman, nagagawa (My only concern is so long as they are doing their job, they stay. So far, they are able to do their job)," he said, referring to Vergeire and Faustino.
Marcos said he would let Vergeire lead the DOH in the meantime, considering that the acting health chief is "doing a fine job."
He added that he is being "careful" because the country is still grappling with the coronavirus disease 2019 (Covid-19) pandemic.
"Wala pa kaming DOH. Wala pa kaming inino-nominate. (We have yet to nominate someone as DOH secretary). Usec. Vergeire is doing a fine job. Let her do [the work for now] kasi (because) we are still not out of the pandemic. So, we have to continue to be careful," Marcos said.
Marcos also vouched for the competence of Faustino who could only serve as DND OIC because of a one-year appointment ban.
Faustino served as Armed Forces of the Philippines chief under the Duterte administration and reached mandatory retirement on Nov. 12, 2021.
Marcos said he is set to review the list of candidates for the DND top post.
"Sa DND, I think happy ako (I'm happy) with the situation as it is now. We'll see," he said. "These things are revisited especially every year at the end of the first year. I don't think that's a secret to anyone that at the end of the first year, 'yung mga ibang kandidato (the other candidates), they will now join the mix of possible nominees."
On Nov. 23, Executive Secretary Lucas Bersamin said Marcos is careful in appointing new Cabinet secretaries.
Marcos on Nov. 29 said it would also take some time before he lets go of being the Agriculture chief, noting that the list of candidates to replace him "keeps changing." (PNA)