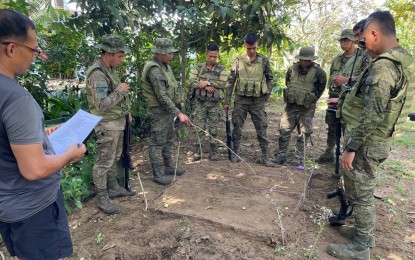 TACLOBAN CITY – The Philippine Army 43rd Infantry Battalion (IB) has stepped up its hunt for the remaining seven fighters of the New People's Army (NPA) hiding in the mountains of the 1st district of Northern Samar.
1st Lt. Benigno Lopez, spokesperson of the 43rd IB said on Thursday they have been working with officials and residents of far-flung communities to track down the remaining NPA members belonging to front committee 2.
"We are intensifying our focused military operations to neutralize the NPA remnants. They are weak and without support from previously influenced communities," Lopez told the Philippine News Agency (PNA) in a phone interview.
The army posted photos of the seven remaining NPA members in the remote barangays for the people to easily identify them.
From 2020 to this year, at least 50 fighters of NPA front committee 2 have surrendered to authorities.
In the past two years, 70 villages in the first district of Northern Samar have been cleared of the influence of the NPA.
The army unit covers the towns of Catarman, Allen, Bobon, Lavezares, Lope de Vega, Mondragon, Rosario, San Isidro, San Jose, and Victoria in Northern Samar; and some parts of Calbayog City in Samar.
These remaining NPA members, Lopez said, are sometimes augmented by fighters from the NPA Eastern Visayas Regional Party Committee (EVRPC) with hideouts in the province.
EVRPC members are scattered after government forces launched an attack in remote Imelda village in Las Navas town on Nov. 23, destroying a major lair of the NPA regional committee with 30 huts and a big cottage for meetings.
The fierce gun battle killed six NPA members, including Helenita Pardales alias Ka Elai, the top leader of the EVRPC, and two NPA leaders in the province.
The encounter occurred just five days after two NPA members were killed and three other fighters were captured in a clash in San Isidro, Northern Samar on Nov. 18. (PNA)