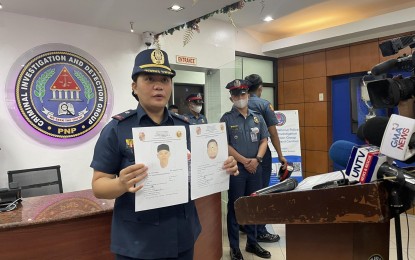 MANILA – The Criminal Investigation and Detection Group (CIDG) on Thursday released the composite sketches of two suspects in the case of missing "sabungeros" (cockfighting enthusiasts) in Laguna.
CIDG chief Brig. Gen. Ronald Lee said the release of the composite sketches is a follow-up to their ongoing investigation.
"Based on the 'secret' cellphone video showing two men and a handcuffed missing 'sabungero' walking outside a cockfighting arena in Santa Cruz, Laguna on April 28, 2021, we now hold vital evidence on our probe in the disappearance of the said sabungeros," Lee said in a statement.
He said the handcuffed man in the video was Michael Bautista, one of the 34 missing cockfighting enthusiasts, who was identified by his brother and wife.
Lee has directed the CIDG Regional Field Unit 4A to take the formal statements of the wife and brother of Bautista as part of their investigation.
With the video on hand and through the computerized facial composites of the suspects, CIDG spokesperson Maj. Mae Ann Cunanan said they now have leads on the identity of the two men while enhancement of the cellphone video is ongoing at the PNP Anti-Cybercrime Group (ACG).
"The video has yet to be enhanced but through facial recognition, we can establish their identities. We just need to give the video to the ACG for it to be enhanced so that the facial composites that we would get would be clearer. This would be of great help to our investigation," Cunanan told reporters in a press briefing at Camp Crame on Thursday.
A criminal complaint against the suspects is being prepared for filing before the Department of Justice.
"As soon as I assumed the position of Director of CIDG, one of my priorities was the continuous investigation of the missing victims. Hindi natin ito nilubayan o isinatabi, ang CIDG ay patuloy na naghahanap ng mga ebidensiyang at mga saksi na makakatulong sa paglutas ng insidenteng ito (We have not dismissed it or put it aside, the CIDG continues to search for evidence and witnesses that will help solve this incident)," Lee said.
All of the missing "sabungeros" remain unaccounted for.
Reports said their abduction was allegedly a part of the crackdown of online cockfighting operators on those engaged in game fixing.
DOJ to meet with victims' families
Meanwhile, Department of Justice (DOJ) Secretary Jesus Crispin Remulla said he will be meeting with families of the missing sabungeros to update them about the developments and assure them of the government's commitment to solve the case.
"We're contacting the NBI (National Bureau of Investigation) also, atsaka (and the) CIDG so we can update ano 'yung (what are the) latest investigation (and) basically (tell them) we're not giving up on anything or anybody," Remulla said in an ambush interview Thursday.
He said video footage obtained by NBI operatives allegedly of similar abductions in Cavite province is among the latest leads the government has on the case.
"We're just giving them access to us kasi baka mamaya (because later on), they might think na (that) we are insensitive to what is happening. We're not, we're not (insensitive). We're very concerned," Remulla said. (With reports from Benjamin Pulta/PNA)