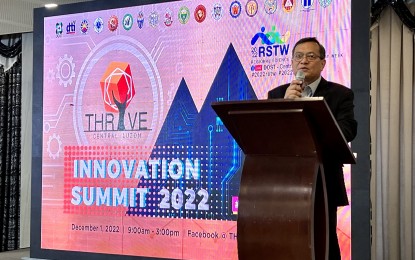 CITY OF SAN FERNANDO, Pampanga – Small and medium enterprises (SMEs) in Central Luzon have been given a big boost in upgrading their businesses through collaborative innovations.
Through the 2022 THRIVE Central Luzon Innovation Summit, the Department of Science and Technology (DOST) and Department of Trade and Industry (DTI), along with other stakeholders, provided the SMEs with a venue that links them to various strategies in leveling up their operations.
DOST Regional Director Julius Caesar Sicat, in his message during the summit at The Orchids Garden here, said the goal of the event was to enable the matching, adoption or commercialization of locally-generated innovations and technologies from Research and Development (R&D) institutions to the interested business owners.
He cited the vital contribution of the SMEs to the country's economy.
"You are the backbone of the economy," Sicat said as underscored the importance of linkages between SMEs, higher educational institutions (HEIs) and government agencies for inclusive and sustainable development.
"Let us continue working to realize our vision for a thriving Central Luzon, a venue for innovation to work as a pool, to solve challenges where a multi-challenges approach will enable us to maximize existing capacities and strengths of each player. To fill in the gaps and weaknesses of one another by allowing innovations," he said during the live-streamed event.
Meanwhile, the Central Luzon State University (CLSU) through the University Extension Center brought the products of R&D initiatives to the summit to showcase the technologies of the university and entice more technology adopters.
These innovations include the Andali Rapid Test Kits, Lepton-site, AnthracKnows, Choco Goat's Milk and Nutribar, among others.
With the DOST as an active partner of the CLSU in R&D initiatives, those innovations have been developed to cater to local and national needs in all aspects of growth and development.
During the event, a total of 32 SMEs in the region were awarded for their commitment to forging partnerships with HEIs and R&D Institutes.
Through this engagement, Sicat said the SME-HEI collaboration would be strengthened as aligned with the objectives of THRIVE Central Luzon Innovation Summit.
The event is part of the celebration of National Science and Technology week which runs from Nov. 29 to Dec. 1, 2022. (PNA)