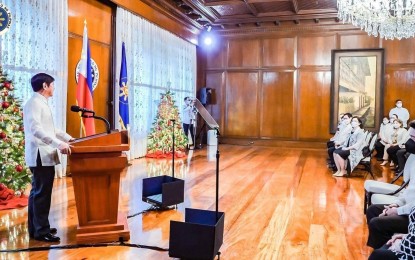 MANILA — President Ferdinand R. Marcos Jr. on Thursday called on Filipino diplomats to promote and protect the Philippine interests in the respective countries where they will be assigned.
Marcos made the appeal as the country's dignitaries paid him a visit at Malacañan Palace in Manila, according to a statement released by the Office of the President on its official Facebook page.
As he acknowledged the vital role of newly-appointed and confirmed ambassadors as the Philippines' representatives in various countries, the President reminded them to keep good ties with its foreign partners and allies while upholding the country's independent foreign policy and interests.
"President Ferdinand R. Marcos Jr. called on the newly-appointed Philippine Ambassadors Extraordinary and Plenipotentiary to 'promote and protect Philippine interests while maintaining good relations in the foreign countries where they will be posted'," the OP statement said.
Marcos urged the officials to exhaust all efforts to attain his administration's goal of bringing progress and development to the country, state-run Radio Television Malacañang (RTVM) said in a separate social media post.
They were also asked to help the administration to boost the country's economic growth so Filipinos would have a better life.
"The Chief Executive reminds the Philippine Ambassadors to continue the efforts of the government in communicating and promoting the interest of the Philippines, as well as to maximize available resources and opportunities for partnerships with other nations in order to help the Philippine economy and make life better for the Filipino people around the world," it said.
"The President reaffirmed his commitment to upholding the nation's independent foreign policy and assured the diplomats of his administration's unwavering support as he sent them off to their respective countries of assignment," the OP statement added.
Those who visited President Marcos were Ambassadors Grace Tolentino Cruz-Fabella (Argentina), Jaime Victor Badillo Leda (Belgium), Joseph Gerard Bacani Angeles (Brazil), Eduardo Martin Ramos Meñez (Czech Republic), Gina Alagon Jamoralin (Indonesia), Pedro Ramirez Laylo Jr. (Israel), Nathaniel Garcia Imperial (Italy), Mylene De Joya Garcia-Albano (Japan) and Wilfredo Cunanan Santos (Jordan).
Other envoys who met with Marcos were Ambassadors Lilybeth Rodriguez Deapera (United Mexican States), Lilibeth Velasco Pono (Qatar), Medardo Antonio Gonzales Macaraig (Singapore) and Alfonso Ferdinand Agbayani Ver (United Arab Emirates). (PNA)