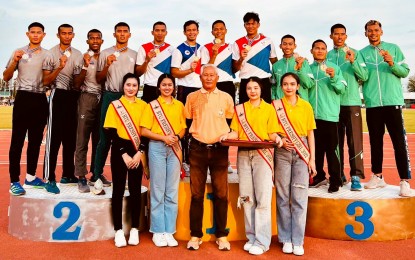 MANILA – The Philippines ended its campaign at the Thailand Open Track and Field Championships with five gold medals, including two from the women's heptathlon and men's 4x400m relay events on Thursday.
Sarah Dequinan tallied 5,280 points in the women's heptathlon while the 4x400m relay team of Edgardo Alejan Jr., Michael Carlo del Prado, Joyme Sequita, and Francis Medina prevailed after clocking 3:11.83 at the National Athletics Centre in Samkhog District, Pathumthani province.
The other gold medalists were John Albert Mantua in the men's shot put (16.24), Alfrence Braza in the men's 1,500m (4:03.79), and Mariano Masano in the men's 800m (1:54.07).
Aside from the five gold medals, the Philippines also bagged six silver medals and four bronze medals.
The silver medalists were Leonard Grospe (high jump - 2.16), Masano (1500m - 4:06.53), Michael del Prado (400m - 48.26), Janry Ubas (long jump - 7.72), Katherine Khay Santos (women's long jump - 5.98), and Joida Gagnao (women's 3,000m steeplechase - 11:16.19).
The bronze medal winners were Gagnao (5,000m - 19.02.92), Francis Medina (400m hurdles - 53.00), Hokett delos Santos (pole vault - 5.10), and the 4x100m relay team of Santos, Eloiza Medina, Melissa Escoton, and Jelly Dianne Paragile (47.82).
The Filipinos' performances in other events were as follows: Eloiza Medina - 57.42 (400m), fourth; Alejan - 48.67 (400m), fourth; Melvin Calano - 66.79 (javelin), fourth; Josefa Ligmayo - 4,588 (heptathlon), fourth and 1.65 (high jump), sixth; Ubas - 4.75 (pole vault), sixth; Dequinan - 1.65 (high jump), sixth; Escoton - 14.24 (100m hurdles), sixth; and Paragile - 14.27 (100m hurdles), seventh.
Coaches Danilo Fresnido and Joebert Delicano accompanied the 18 athletes who were selected based on their performances in the finals of the Philippine Amateur Track and Field Association weekly relay series held from August 14 to November 20.
During the 2019 Thailand Open, the Philippines got three gold medals from Aries Toledo (men's decathlon), Marestella Sunang (women's long jump), and Natalie Rose Uy (women's pole vault); one silver from Ubas (long jump); and two bronze medals from Ronne Malipay (men's triple jump) and Dequinan (heptathlon). (PNA)