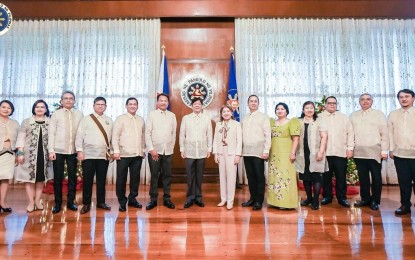 MANILA – Seek partnerships and build good relations with receiving states and foreign investors, President Ferdinand R. Marcos Jr. told the new and confirmed Philippine ambassadors on Thursday.
In his meeting with the Filipino diplomats at Malacañan Palace in Manila, Marcos directed them to find ways to establish strong connections with host countries and attract more foreign investments as they represent the Philippines.
"And whether or not they are allies, whether or not they are friendly, nonetheless, it is very important that we continue to communicate, that we continue to engage, that we continue to have a way to explain what the Philippines is trying to do, how the Philippines sees its role in the community of nations," he said during the meeting, as quoted by the Office of the Press Secretary (OPS) in a news release on Friday.
"I think it is important (that) we now look and be very, very conscientious about finding opportunities for the Philippines that might be good for the Philippines," the Chief Executive added.
Marcos noted that as Ambassadors Extraordinary and Plenipotentiary, their role is to promote the interest of the Philippines and foster partnerships "with all our neighbors."
He said the country's envoys should help his administration in addressing pressing issues confronting the country, including the coronavirus disease 2019 (Covid-19) crisis and the Russia-Ukraine conflict.
"And in this time, I think it is very important that those partnerships are created and strengthened," he said. "It is important that we have partners as we try to navigate out of this pandemic economy, out of the crisis that we have had to attend to and deal with as an effect of the Ukraine conflict."
"When we endorse and assist the private sector in partnerships with whoever the investors from outside, that is also a good thing for us," he added.

Learn to adjust
As the world grapples with multiple challenges, Marcos said the ambassadors have a key role to play when it comes to advancing the national interests of the country.
He advised them to adapt to changes, given their "different" mission of representing the Philippines to other countries.
"So, it is a different kind of mission. You no longer are concerned solely with the diplomatic contact and the diplomatic exchanges. We are no longer limited by distance, by geographical and physical positioning," Marcos said.
"This is something that we have to recognize now. And that is what, as I said, we look to our envoys to be able to achieve to one, consistently make known to all our friends, all our own partners, the position of the Philippines on all the aspects of the world discussion that we are all part of."
He advised the envoys to initiate talks with people, corporations, and entities from other countries that might open doors for new partnerships beneficial to the Philippines.
The ambassadors may consider government-to-government negotiation and investment tie-ups with foreign investors, he said.
"That's why I think that probably is the newest feature of an envoy's duties as I see. So that I see, well, it is a new world out there; we must adjust," Marcos said. "And I believe that for the Philippines, for the national interest, that this is the way to adjust."
Present during the meeting were Ambassadors Grace Tolentino Cruz-Fabella (Argentina); Jaime Victor Leda (Belgium); Joseph Gerard Angeles (Brazil); Eduardo Martin Meñez (Czech Republic); Gina Jamoralin (Indonesia); and Pedro Laylo Jr. (Israel).
The newly appointed and confirmed ambassadors who also paid a visit to Marcos were Ambassadors Nathaniel Imperial (Italy); Mylene Garcia-Albano (Japan); Wilfredo Santos (Jordan); Lilybeth Deapera (United Mexican States); Lilibeth Pono (Qatar); Medardo Antonio Macaraig (Singapore); and Alfonso Ferdinand Ver (United Arab Emirates). (PNA)