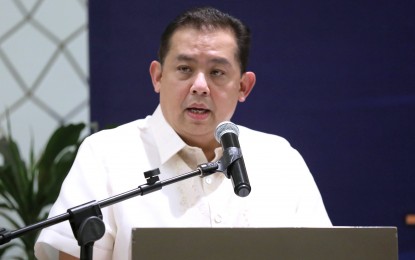 MANILA – Speaker Martin Romualdez on Friday said the growth forecast for the Philippines next year by a respected international credit rating and financial research agency just proves that the Marcos administration is pursuing the right economic policies.
"Moody's Investors Service's positive forecast for the Philippines in 2023 just confirmed that the Philippines is on the right track and gaining more momentum, and that our economy is in full swing toward recovery," the Speaker said in a press statement.
"It is reassuring to note that Moody's sees the Philippines posting the fastest GDP (gross domestic product) growth in the Asia-Pacific region next year. Moody's projection, along with Finance Secretary Benjamin Diokno's own statement that our GDP growth will likely reach 7 percent or at least 6.5 percent for this year, validate the rationality of President Ferdinand R. Marcos, Jr.'s decision to relax pandemic-related restrictions, the soundness of his administration's economic policies, and the competence of his chosen economic managers," Romualdez said.
According to Moody's, the Philippines is expected to post the fastest GDP growth in the Asia-Pacific with 6.4 percent next year, followed by Vietnam with 6.1 percent, China with 5.1 percent, India with five percent, Indonesia with 4.7 percent, Thailand with 3.9 percent and Malaysia with 3.8 percent.
Such growth, according to the credit rating agency, would be spurred by pent-up demand for goods and services by firms and households, as well as the government's fiscal policy promoting education, public health, and infrastructure development.
But despite the upbeat predictions, Romualdez warned that "dark clouds remain on the horizon that may impede our growth momentum, such as the Russia-Ukraine conflict and the continuing specter of the Covid-19 virus."
"The House of Representatives remains committed to passing the priority legislation of the Marcos administration to address these concerns and ensure sustainable, resilient, innovative, and inclusive economic growth," he said.
"With the prudent fiscal and economic policies of the Marcos administration, a strong partnership between the government and the private sector, and the cooperation of our people, we have a good reason to look forward to a better life for our people in the coming year," Romualdez added. (PNA)