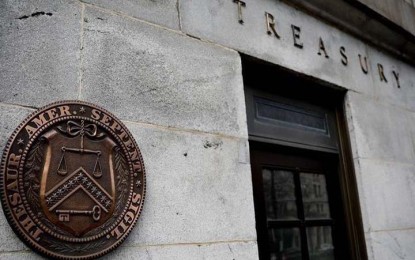 NEW YORK – The United States imposed sanctions Thursday on three North Korean officials in response to Pyongyang's intercontinental ballistic missile (ICBM) test last month and its weapons of mass destruction programs.
The US Treasury Department identified those designated for sanctions as Jon Il Ho, Yu Jin, and Kim Su Gil.
The same officials were also designated for sanctions by the European Union last April.
They will be sanctioned for their "major roles in the Democratic People's Republic of Korea's development of weapons of mass destruction," the department said, referring to North Korea's official name.
North Korea's latest ICBM launch in November was reportedly the first successful test of its largest and most powerful missile, which is capable of reaching all of North America.
''These actions follow the DPRK's unprecedented launch of over 60 ballistic missiles this year, including the test of several intercontinental ballistic missiles,'' US Secretary of State Antony Blinken said in a statement.
''These destabilizing actions pose grave security risks to the region and entire world.''
Blinken said that all three targets have direct connections to North Korea's unlawful ballistic missile program.
The US is also seeking "strong action" by the UN on North Korea but China and Russia -- two of the veto-wielding powers at the Security Council -- have opposed US efforts to impose more sanctions on Pyongyang and have long pushed for sanctions relief. (Anadolu)